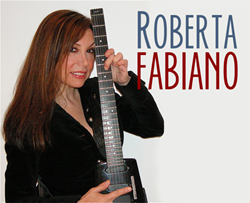 Having Roberta at M57 is like passing the torch from one generation to the next.
New York, NY (PRWEB) April 30, 2014
Newly opened Russian Central Asian restaurant with live music, Moscow 57 announced today that Guitarist Roberta Fabiano, of the Peter Duchin Orchestras will be performing as a featured guest artist on Friday, May 2nd and Saturday, May 3rd. Music begins each night at 7:00pm.
Roberta's performances at Moscow 57 bring a story full circle, as Moscow 57 owner Ellen Kaye grew up knowing Peter all her life. Ellen's parents, Sidney Kaye and Faith Stewart-Gordon owned the Russian Tea Room from 1947-1996. "Peter was a regular at the Tea Room," said Ellen, "and having Roberta at M57 is like passing the torch from one generation to the next." Moscow 57 is located at 168 ½ Delancey Street on the Lower East Side. Other artists scheduled to appear those evenings include Cleve Douglass, Mary Foster Conklin, Jordan Pettay, Laura Foulke, Andrew Rodriguez and Ellen Kaye and the M57 Band.
Roberta has performed for five U.S. Presidential Inaugurations and has also performed for Queen Elizabeth and the Royal Family for a number of their private events. A graduate of Berklee College of Music, she has also played for many artists, including Sarah Jessica Parker, Mary Cleere Haran, Nellie McKay, Kathie Lee Gifford, Al B. Sure!, and many others.
As a songwriter, Roberta co-wrote three songs with Doc Pomus and has a song featured in the DVD of the movie "The Wild Parrots of Telegraph Hill." Roberta has appeared in several films (including "Working Girl" ) and numerous television shows. She is the lead singer and guitarist with the Peter Duchin Orchestras and has sung the national anthem for the New York Rangers and the New York Islanders. You can find her listed in "Who's Who in American Women," "Who's Who in America," "Who's Who in Entertainment" and "Who's Who of Emerging Leaders in America."
Moscow 57, the hospitality and entertainment company, was launched several years ago by partners Ellen Kaye, Seth Goldman and Ethan Fein. For the past two years, the company has been hosting its M57 Urban Salons, evenings of music, food and digital visual art displays, in Harlem; Washington Heights; Chelsea; the Upper East Side; the East Village; Governors Island; New Milford, Connecticut; and New Orleans. Moscow 57 has made New Orleans a home away from home, with regular forays into that city's world-renowned culture of Southern hospitality, regional cuisine, and world-class entertainment.
After performing at and co-producing events with New York's Corcho Wine Room, as well as celebrating Latin American culture in New Orleans, this cosmopolitan attitude is being brought to Moscow 57's permanent home on New York City's Lower East Side every night.
Moscow 57 Entertaining, created in partnership with Ethan Fein, is developing projects for film, television and theater. Its music company produces podcasts, live performances, recordings and videos. Moscow 57's first CD releases have already garnered national radio airplay, and the company's videos can be seen on the Moscow57Entertaining YouTube channel. The company's M57 podcast will be streaming live on Sunday nights.