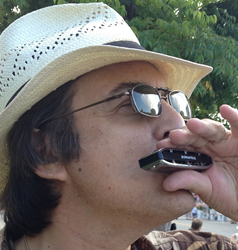 The Pulmonica has been used successfully by people with COPD, asthma, and allergies.
Sarasota, FL (PRWEB) May 01, 2014
"The Pulmonica was developed to help my brother-in-law who had emphysema, and has been used successfully by patients with COPD, asthma, and allergies," said Dana Keller, PhD, co-inventor of the pulmonary harmonica. "The positive testimonials we are receiving have been very gratifying." The pulmonary harmonica produces low harmonics that loosen secretions so they can be eliminated, and the soothing tones promote diaphragmatic breathing and relaxation.
"We understand why medical professionals are reluctant to adopt a new treatment, but the Pulmonica was created for nonmusicians and has been shown to be safe and effective with no serious side effects," Dr. Keller continues. "At worst, patients get a little dizzy when they first start playing, but that soon passes. At best, patients have developed an interest in learning to play music, which is an additional benefit."
Here are 12 reasons for medical professionals to recommend the Pulmonica:
1. Provides inhalation and exhalation therapy against progressive resistance. The lower notes are harder to play. Patients start around the middle and move lower as they progress.
2. Playing multiple notes together produces harmonics that vibrate the lungs and sinuses and help loosen secretions. Once the congestion is eliminated, patients can breathe easier.
3. Regular use promotes diaphragmatic breathing, which can then become habitual even without the device. This benefit alone makes the device worthwhile and useful for people with all stages of breathing problems.
4. No musical talent is required because the Pulmonica is tuned to always sound good. Just long, slow, deep, and complete breaths are all that's needed to get the benefit of this respiratory therapy device.
5. The deep, resonant, meditative sounds are soothing and relaxing to the user, and pleasant for bystanders. This is especially important to someone who's worried about not being able to breathe.
6. Unlike traditional harmonicas, the Pulmonica has no sharp edges or tinny sounds, so it's safe and pleasant for people of all ages.
7. Handcrafted in Germany by Seydel using stainless steel cover plates, brass reeds, and a high quality acrylic center, the Pulmonica is attractive and easy to clean.
8. For those who want to try playing music, this device is one of the world's finest harmonicas and music is available on the website, http://www.Pulmonica.com.
9. With COPD readmissions being such a hot topic, having a new therapeutic device that patients enjoy using can only be a good thing.
10. Finally, a respiratory therapy device that is effective, empowering and pleasant to use.
11. Five minutes morning and night, and as often as desired throughout the day, and compliant patients should be breathing better in just a few days. And that should make everyone happier.
12. Now available on Amazon for $99.95 with a 30-day money-back guarantee. Quantity discounts are available.
"Working with local pulmonary specialists, we have determined the contraindications to using the Pulmonica are patients with pneumothorax, advanced TB, lung pain, or who are coughing up blood," Dr. Keller added. "For the vast majority of patients with breathing problems, the pulmonary harmonica can be an effective and simple adjunct to treatment."
About Pulmonica
The Pulmonica is handcrafted in Germany by Seydel, the world's oldest harmonica manufacturer. Find more information at http://www.pulmonica.com and at the Pulmonica page on Amazon.com. The Kellers are available to speak to groups about harmonicas in health care and the Pulmonica. They may be contacted through their website, http://www.Pulmonica.com, or by calling 888-382-9283.