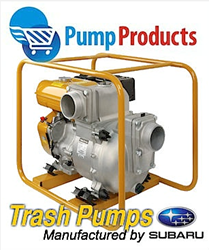 This spring we've brought on two new brands that produce superior products in the engine driven pump and fuel feed pump markets.
Wallington, NJ (PRWEB) April 30, 2014
Pump Products, an internet-based pump retailer serving residential, commercial and industrial customers across the country, recently added Subaru trash pumps and Suntec oil burner pumps to its online catalog. These models add brand and model diversity to a premium inventory of hydronic pumps for wastewater, circulation and general utility applications.
"This spring we've brought on two new brands that produce superior products in the engine driven pump and fuel feed pump markets," says Product Expert Fred Hettinger. "Subaru trash pumps are made with the same technology as some of the toughest cars on the road. Suntec oil burner pumps have set the market standard in Europe for 25 years. These new lines will diversify and expand our floodwater and heating pump offerings."
Trash pumps are used to pump large volumes of liquid laden with dirt, sludge, leaves, twigs and other solids. They are portable, heavy-duty, engine-driven units commonly used in flood zones and construction sites with no electrical access. Subaru trash pumps are built with construction grade features and include Subaru's industry-leading industrial engines to ensure easy starting, low maintenance and long life. Available with 2″, 3″ and 4″ suction/discharge ports, with capacities ranging from 185 -499 gpm, Subaru trash pumps have steel tubular wraparound frames that protect them and support their operation under the harshest conditions.Their cast-iron volutes and wear-resistant, cast-iron impellers are made to withstand tough solids and abrasive debris and provide long service life.
"Subaru trash pumps are subjected to extreme conditions, so the engines have got to be strong and sturdy," says Hettinger. "These pumps are required to pump thousands or even tens of thousands of gallons of water each day. Beyond being durable, the Subaru pumps are designed for quick clean out and easy parts replacement. Low-cost maintenance and an industry-leading 5-year warranty virtually guarantee value and long pump life."
Pump Products also carries a wide range of Apache trash pump accessories that complement the Subaru trash pump line, including heavy duty suction hoses and hose strainers to protect the pump from oversized debris entering the intake hose.
Suntec oil burner pumps feed fuel oil from a holding tank to an oil burner and are commonly used with No. 1, No. 2 and kerosene fuel oil systems in residential, commercial and industrial heating applications.
Pump Products has taken on Suntec's complete line of single-stage and two-stage oil burner pumps for low, medium and high capacity burners ranging from 10KW to to 30,000KW. They are available in speeds of 3450 rpm, 2850 rpm, 1725 rpm, and 1425 rpm. Most pumps are adjustable from 100-150 PSI. A large selection of Suntec repair parts are also now available through the Pump Products website.
"Innovation, efficiency and quality construction are hallmarks of Suntec's pump designs," says Hettinger. "Their oil burner line features an integrated pressure regulator that delays furnace start-up until oil pressure is maximized. The result is better fuel efficiency and greater temperature control for a home or business. A 3-year warranty makes Suntec's oil burner line one of the best bets on the heating pump market."
Company Information
Pump Products is an online pump retailer offering an extensive selection of pumps and repair parts by leading manufacturers including Armstrong, Berkeley, Grundfos, Franklin Electric, Sta-Rite, Hydromatic -- and now -- Subaru and Suntec to residential, commercial and industrial customers. For more information, visit Pump Products at http://www.pumpproducts.com or call 1-800-429-0800.