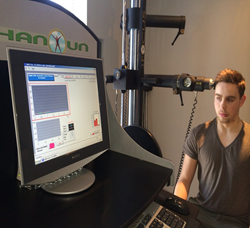 The MyoWorx® Concussion Treatment approach provides a unique perspective to addressing the sometimes relentless symptoms of concussion and gives us a key (in the MyoWorx® TM20 device) to unlock the potential to effectively treat patients.
Guelph, Ontario (PRWEB) May 01, 2014
The gym space is dedicated to MMTR's concussion patients, and is furnished with equipment to successfully service clients throughout their treatment. All equipment has been handpicked by Terry Moore, CEO and President of MMTR Inc. Moore's 25 years of evidence-based clinical practice and research has helped to modify the gym to include the correct tools to treat concussion symptoms.
Neck strength testing equipment with real-time graphics has been added to help identify patients' symptoms. Top-notch cardio equipment has been purchased to improve the quality of training exercises. In addition, an iPad tablet has been added to the facility to help with balance testing and screen-based activities. The tablet will also aid patients through different cognitive retraining exercises. These activities have demonstrated excellent results for patients suffering from post-concussion symptoms.
The new facility and enhanced program has been launched for six months and has been gaining interest from local healthcare specialists, which has been evident due to the recent increase of referrals. Going hand and hand, the number of patients at MMTR has been steadily increasing month by month.
Approximately 85% of MMTR's patients have responded positively to the MyoWorx® treatment. It is important to note that 80% of patients, before receiving treatment, were suffering from symptoms for greater than 3 months with many suffering for years.
MyoWorx® Concussion Treatment focuses on eliminating concussion symptoms. MMTR's preliminary research indicates this may be the first treatment model to provide an explanation and potential relief from all four domains of lingering concussion symptoms: Cognitive, Bodily, Emotional/Behavioral and Sleep disturbances.
MMTR Inc. is a physiotherapy-based clinic located in Guelph, Ontario. The specialty clinic is founded by Terry Moore, a Neuromuscular and Cardiovascular Physiologist. The clinic redefines physiotherapy treatment utilizing Moore's MyoWorx® Approach, while specializing in chronic pain and hard to treat cases. Physiotherapists' main focus at MMTR are to get patients back to a functional and pain-free lifestyle.