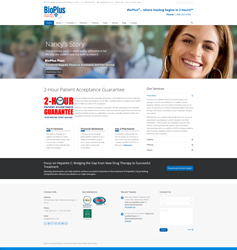 Altamonte Springs, FL (PRWEB) April 30, 2014
BioPlus Specialty Pharmacy (BioPlus), one of the nation's leading specialty pharmacies, unveils a revamped website this week: http://www.BioPlusRx.com. Visitors to the website will still find detailed information about BioPlus services and dedicated sections for physicians, payers, and the pharmaceutical industry, but the new website now offers upgraded patient-focused areas with an enriched content experience. With the site upgrade of more extensive patient content, website visitors can read stories of the actual experiences of BioPlus patients as they navigate their treatment plan.
"One of the most special things about this top-down redesign of our website is that it gives users improved navigation tools and access to engaging and enriching patient stories," says Stephen Vogt, Pharm.D., President and CEO of BioPlus. "BioPlus, as a specialty pharmacy, continually grows and adapts to the changing needs of physicians, patients, payers, and pharma; this new website is one more step demonstrating our commitment to providing high-touch services and specialty pharmaceuticals for patients with chronic diseases such as bleeding disorders, hepatitis, and cancer," adds Dr. Vogt.
BioPlus' ongoing dedication to innovation has been recognized with several nominations and awards over the years from URAC and Ernst & Young. Visit BioPlus' relaunched website at http://www.BioPlusRx.com.
About BioPlus Specialty Pharmacy
BioPlus Specialty Pharmacy is the first specialty pharmacy to introduce a two hour turnaround from referral to patient acceptance. BioPlus... Where healing begins in 2 hours. Our company celebrates 25 years of excellence in specialty pharmacy, working closely with payers and the pharmaceutical industry, as well as with prescribers to get prompt treatment for patients, and directly supports our patients nationwide to achieve optimal health outcomes. Our proprietary web tool Tap App, connects prescribers to the pharmacy by bringing the pharmacy chart into the doctor's office with real-time specialty pharmacy information and treatment monitoring.
BioPlus provides a complete range of infusion and specialty services, including for hepatitis C, cancer, bleeding disorders, and other complex, chronic conditions. BioPlus, a privately-held, pharmacist-owned company based in Altamonte Springs, Florida, is accredited by URAC, VIPPS, and the Accreditation Commission for Health Care (ACHC). More information about BioPlus is available at http://www.bioplusrx.com or toll free 1-866-514-8082.
For information: http://www.bioplusrx.com or
Contact: info(at)bioplusrx(dot)com
Phone: 1-888-292-0744
###