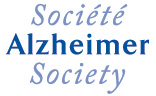 "Estate planning is about much more than money. It's the only way to divide your lifetime of effort according to your wishes." - Colleen Bradley, Gift and Estate Planner from the Alzheimer Society of Ontario
Toronto, Ontario (PRWEB) April 29, 2014
The Alzheimer Society of Ontario understands that life is often unpredictable. So this May, during "Make-a-Will/Leave-a-Legacy" month, the Alzheimer Society proposes a series of tips to help everyone get their financial and legal planning in order. Starting Monday May 12, daily posts on facebook.com/AlzheimerSocietyofOntario will highlight how critical it is to prepare a Will long before it is needed. The Alzheimer Society is also making available free of charge its Estate Planner Guide and Planner, two handbooks vetted by professionals to help Ontarians understand and easily gather the information needed for this important document.
But… do you really need a Will?
1 in 10 seniors
Today, dementia affects 200,000 Ontarians over 65, or one in ten seniors. As the baby boomer population ages, the number of seniors with dementia is expected to increase by up to 8,000 individuals per year through the end of the decade. Did you know that a person must have mental capacity to sign legal documents? Capacity doesn't have to be perfect. But if you or someone you know is living with dementia, now is the time to get your affairs in order.
Plan… for living!
A living Will details your personal wishes regarding medical treatment if you are unable to make those critical decisions.
Not rich enough
You think you have nothing to leave? Personal items often have great value, whether sentimental or financial. What about your grandmother's necklace or a family portrait from the turn of the century? Write these items into your Will and make sure they go to the person who will appreciate them most.
Humans are mortal
Let's face it: we're not getting any younger. According to the Ontario Government, by the year 2020, the number of seniors 65+ is projected to grow by 20% to 2.5M(i). In fact, by 2050, about one in four Canadians is expected to be 65 or over (ii). Here's another sobering thought — what will happen to the assets you worked hard to accumulate when you are no longer around to enjoy them?
Because you say so!
If you die without a Will, the Ontario government will decide how your assets will be divided—not you. Want control of your assets? Work with a professional when planning your estate to help decrease family disputes, fees and taxes. For example, did you know that if you make a gift to a registered charity in your Will, that gift may be tax-free? Which means more money for the people you really care about.
Life happens
You already have a Will? If you've gotten divorced or remarried, if you've already given away an asset you were planning to donate, or if you no longer need guardians, you'll need to make changes to your Will.
Quick, easy and cheap?
How about quicker, easier, and cheaper than you thought? To help you prepare a legally sound Will, you need to work with a professional. Help minimize the legal fees by being well prepared.
This May, during "Make-a-Will/Leave-a-Legacy" month, discuss your giving options with a professional advisor. Your family will appreciate it. The charities you support will appreciate it. And you will appreciate the peace of mind you get from fulfilling this, one of your most important stewardship responsibilities.
"What better way to thank a charitable organization that has had an impact on your life, or the life of someone you love, than to make a contribution to the future of the work that is most meaningful to you," suggests Colleen Bradley, Gift and Estate Planner from the Alzheimer Society of Ontario. "Estate planning is about much more than money. It's the only way to divide your lifetime of effort according to your wishes."
To receive the free Estate Planner Guide and Planner, please contact Colleen Bradley from the Alzheimer Society of Ontario at 416-847-8913 or by email at cbradley@alzheimeront.org.
-30-
About the Alzheimer Society of Ontario
The Alzheimer Society of Ontario and its network of local Societies across the province offer Help for Today through programs and services for people living with Alzheimer's disease and other dementias and Hope for Tomorrow…by funding research to find the cause and the cure. http://www.alzheimerontario.ca
For more information, or to book an interview with the Alzheimer Society of Ontario, please contact:
Pascale Guillotte
Director, Marketing and Communications
Alzheimer Society of Ontario
416 847-8922
pguillotte (at) alzheimeront (dot) org
i. http://www.fin.gov.on.ca/en/economy/demographics/projections/projections2012-2036.pdf
ii. Employment and social development Canada, Canadians in context – aging population. 2014-04-10