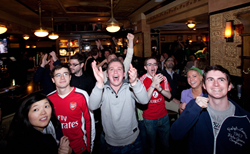 Annapolis, Maryland (PRWEB) April 29, 2014
What: World Cup 2014 hits this June and soccer fans are more excited than ever this spring to gather with other fans in soccer bars to watch the best players in the world and their club teams go head-to-head for the prestigious European trophy. With the likes of legendary clubs such as Real Madrid, Chelsea, Atletico Madrid and Bayern Munich battling it out in the semi-final round this week, the tournament has drawn record crowds throughout. Fadό in Annapolis, the premier destination spot for soccer fans year-round since 2007, is once again anticipating a capacity crowd for the biggest European Club competition of the year- the UEFA Champions League Final on May 24.
Fadό will support loyal soccer fans with upgraded state-of-the art audio visual equipment and a full brunch menu available until 3pm. Viewers will arrive early to secure a table and enjoy food and drink specials . Passionate soccer fans in Annapolis have come to expect an energized atmosphere that includes a live feed with sound on multiple HDTVs and supporters wearing their colors with pride. To understand more of what makes Fadό an essential part of the soccer experience in Annapolis, come see the UEFA Champions League Final on May 24.
Where: One Park Place #7 | Annapolis, MD 21401 | 410-626-0069
When: Saturday, May 24 at 3pm ET
Other Key Dates:
May 11 - Final day of the English Premier League (EPL)
May 17 - FA Cup Final
May 27, June 1 and June 7 - US Men's National Team "World Cup send off Series"
June 12 - July 13 - World Cup 2014
Media Opportunities:
This spring, Fadό will be crowded with expats and American soccer fans alike, enthusiastically supporting their teams and watching the title race in the Premier League, FA Cup and Champions League Final. This is the perfect opportunity to preview what World Cup will mean to soccer fans of all nationalities and interest levels. Interviews and photo opportunities available.
About Fadό Irish Pub:
Fadó (pronounced f'doe) Irish Pub is distinguished by its genuine Irish hospitality, quality and craic (Gaelic for "good times"). Fadó was formed by three Irish and Irish-American entrepreneurs and opened in Atlanta in January 1996. Fadό is well known for it's imported Dublin decor, state of the art draught beer system and European sports experience, including soccer. A US Soccer bar, Fadó Irish Pub has enjoyed "best soccer bar" accolades year after year across multiple markets. The name, Fadó, is an Irish term that means "long, long ago" and chosen because Fadό Irish Pub tells the story of Ireland's rich and evolving Pub culture, which now includes craft beer, house cocktails and from-scratch cooking. Currently, Fado Irish Pub and, sister concept, Tigin Irish Pub are located in 14 different cities around the country including Atlanta, Annapolis, Austin, Chicago, Columbus, Washington D.C., Dallas, Denver, Philadelphia, New York, Miami, Stamford, St Louis, and Seattle. Follow along the chatter on @fadoannapolis and http://www.facebook.com/fadoannapolis.