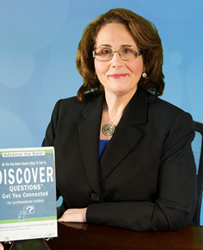 Asking questions is like breathing. You can do it naturally. But when you focus on HOW you do it, you can be more effective and achieve better results.
West Palm Beach, FL (PRWEB) May 01, 2014
The Sales Evangelist announces the release today of "Mastering The Art Of DISCOVER Questions™ with Deb Calvert," the newest podcast episode for those who want to take their sales career, business or income to top producer level.
Podcast host Donald C. Kelly is The Sales Evangelist. He is a top producing software sales professional, award winning speaker and host of this electrifying podcast, "The Sales Evangelist". With his years of sales experience and the expert guests he brings on his show, Kelly offers struggling inexperienced sellers and entrepreneurs the tools to bring their income and careers to a top producer's status.
In this episode, Deb Calvert, author of DISCOVER Questions™ Get You Connected, joins Kelly to talk about the impact of quality questions in a buyer/seller conversation. Calvert explain the eight purposes for asking questions and how sellers can accelerate sales by using all eight purposes more effectively. She also engages in a role play with Kelly to demonstrate powerful question techniques.
The book, DISCOVER Questions™ Get You Connected, was a finalist for Top Sales and Marketing Book of 2013. Available on Amazon.com, the book features scripts from actual sales call and research from over 10,000 sales, including interviews with the buyers engaged in those sales interactions. Calvert is a sales expert, trainer and speaker. She was recently named one of the top ten Women In Sales to Follow on Twitter (@PeopleFirstPS).
Kelly also encourages new listeners to familiarize themselves with The Sales Evangelist's archives of previous podcasts. He says "Just like most of you, I am a real life sales professional hustling in the world of software sales. If you were like me, you had no clue how to really sell when you started in sales. Over the years, I've received training/coaching from some of the industry's leading experts. I applied what I was learning and started seeing a significant difference in my performance and income. I started doing "BIG THINGS"!"
He continues with an explanation of why he became The Sales Evangelist and hosts this podcast. "Today, I interview some of the best sales, business and marketing experts. They provide invaluable training of how you can take your career, business and income to a top producer's status. I know you will enjoy it. Welcome to The Sales Evangelist!"