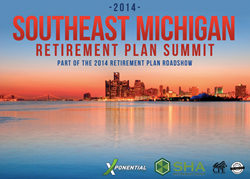 the ability to replace a paycheck in retirement should be the ultimate gauge of success for a retirement plan
Troy, MI (PRWEB) April 30, 2014
The 2014 Southeast Michigan Retirement Plan Summit is one of the nation's top educational and networking workshops. The summit features an interactive discussion between retirement experts and retirement plan sponsors. Retirement best practices and evaluation strategies are the main focus of the dialogue.
Jon Freye, Founder and Managing Director of Xponential Growth Solutions states, "Our Partners believe the ability to replace a paycheck in retirement should be the ultimate gauge of "success" for a retirement "Plan". We are excited about the opportunity to have so many industry experts together to share their insight into tools and concepts available today to measure and manage this objective." The group of retirement industry experts consists of:
-Bob Holcomb – Executive Director – JP Morgan Chase
-Diane Gallagher – VP DCIO – American Century Investments
-Marco Merz - Director, Retail-US DC-Investment Strategy – BlackRock
-John Miller, CFA – Managing Director – PIMCO
In attendance will be a diverse group of HR, Finance, and Business Professionals. The summit will include a Thought Leadership Panel featuring Plan Sponsor Executives from top local Companies, Organizations and Universities. Additional topics of discussion consist of: A Washington D.C. Legislative Update, Target Date Fund Panel Discussion, Maximizing Participant Outcomes, and a Plan Sponsor Panel, highlighting local case studies & success stories.
The 2014 Southeast Michigan Fiduciary Summit will be held at Walsh College on Thursday May 8th 2014, from 8:30 a.m. to 11:30 a.m. (Breakfast Served). The event is approved for 3 CPE/CPA Credits and 2.5 HRCI/SPHR/ PHR/GPHR general credits. Seating is limited and priority will be given to local plan sponsors, with a waived $150 registration fee available on a limited basis. Additional details, overview of our Elite Retirement Consultants, and registration information can be found here: Southeast Michigan Retirement Plan Summit.
Xponential Growth Solutions (XGS) unites 401(k), 403(b), and retirement plan sponsors with elite resources and exclusive connections. Through research, fiduciary summits, and industry expertise they help the nations retirement plan sponsors, fiduciaries, and trustees evaluate their plan and navigate the retirement plan industry. XGS also founders of the Retirement Plan Roadshow, a national series of fiduciary educational summits dedicated to human resources, finance, and business professionals in charge America's 401(k), 403(b), and retirement plans. If you have any questions regarding information in these press releases please contact the company listed in the press release.
Contact Information
Jon Freye
Xponential Growth Solutions
619-795-3920