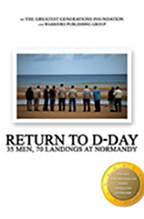 This organization and what it represents instills pride in the 17 million veterans who served and especially to the less than two million yet surviving.--Elmer McGinty, 95th Bomb Group
Los Angeles, California (PRWEB) May 20, 2014
Warriors Publishing Group (WPG) announces their release of "Return to D-Day: 35 Men, 70 Landings in Normandy" (978-0-9897983-2-7, 23 May 2014, $15.95, paperback).
In cooperation with surviving veterans and the Greatest Generations Foundation who receive a portion of the profits the book delves into sea, air, and ground operations on D-Day and gives the perspectives of 35 men who participated in D-Day 1944 as young sailors, soldiers, or airmen. Those veterans recall what happened in their own words recorded during a second visit to the Normandy beaches later in life. That second visit to a place that played such a huge part in their life experiences is highlighted by poignant photographs by John Reidy who accompanied the veterans on an emotional return to Normandy.
This very moving commemoration of that pivotal event of World War II is also tied to Memorial Day this year, and provides an excellent opportunity for readers to gain valuable historic insights to the invasion that cracked the enemy stranglehold on occupied Europe and led inevitably to the defeat of Hitler's infamous Third Reich.
In a stirring mixture of memory and emotion, these 35 veterans give readers a fascinating and insightful vision of what it was like to sail into, fly over, or crawl up onto the bloody beaches of Normandy against stubborn and deadly enemy resistance. Their memories are fresh and captivating as each man tells of his own part in one of the most astounding allied achievements of World War II.
Since 2004, The Greatest Generations Foundation has offered the opportunity for veterans to return to their battlefields at no cost to them. These voyages back to the battlefields are often emotional, providing aging veterans a long-overdue method of dealing with their war experiences, a chance to re-kindle pride in their service and sacrifices, and a venue to educate others.
"Return to D-Day: 35 Men, 70 Landings in Normandy" is available in print from Warriors Publishing Group and in all eBook formats through our partnership with Open Road Integrated Media.
"Return to D-Day" is available in paperback and ebook formats from Warriors Publishing Group (http://www.warriorspublishing.com) and all major booksellers. WPG is dedicated to connecting readers to the best in military fiction and nonfiction. For review copies or further information, contact Warriors Publishing Group.