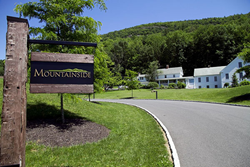 As governments, health care providers and law enforcement work to resolve the crisis, Mountainside plans to be an active in affecting change in the lives of those suffering from heroin addiction.
Canaan, CT (PRWEB) May 06, 2014
Heroin abuse is an urgent health crisis that has Connecticut in its grip, with heroin addiction currently ranking second behind alcohol as the reason people seek substance abuse treatment. Mountainside treatment center has long been on the front lines of helping those who suffer from heroin and opiate addiction find recovery. Its new detoxification program, Mountainside Detox, was created to alleviate the mounting need for additional treatment services in the state starting in late spring.
"We have always believed that the most effective way to treat clients for drug addiction – and our approach is no different for heroin addiction — is individually and with compassion," said a Mountainside spokesperson. Mountainside's new detox program will offer clients a customized detox, including an individualized treatment plan, personalized medication plans, psychiatric care and individual counseling.
Detoxification allows the body to rid itself of the illicit drug while managing withdrawal symptoms, and it is a critical first step of addiction treatment. Heroin withdrawal symptoms include restlessness, muscle and bone pain, insomnia, diarrhea, vomiting, and cold flashes. These harsh physical symptoms may last for several days but the dysphoria that often accompanies heroin withdrawal could last for weeks.
The severity and complexity of withdrawal symptoms make it dangerous to attempt quitting heroin alone. Medical supervision and pharmaceutical drugs are critical in reducing the pain of withdrawal, stabilizing patients physically, and preventing relapse, according to the National Institute on Drug Abuse. As clients undergo the detox process at Mountainside, registered nurses, advanced practice registered nurses, and clinicians work around the clock to closely monitor client progress and adjust medications and treatments to match evolving conditions.
As part of Mountainside's holistic wellness philosophy, its detoxification program will also offer alternative therapies such as acupuncture, yoga therapy and meditation to work synergistically with pharmacological remedies in decreasing pain, cravings and other withdrawal symptoms that could cause a patient to quit treatment prematurely. Patients who relapse immediately after or while withdrawing from heroin have a reduced tolerance for the drug and are at a higher risk for overdose.
The Connecticut state medical examiner's office reported 174 heroin-related overdose deaths in 2012. One year later, that number soared to 257 – a 48 percent increase. Last year, Connecticut saw the highest number of people in eight years - 10,183 - admitted for treatment for heroin at licensed programs, the Department of Mental Health and Addiction Services said. That number was up from 8,954 admitted in 2012.
As governments, health care providers and law enforcement work to resolve the crisis, Mountainside plans to be an active in affecting change in the lives of those suffering from heroin addiction.
To learn more about Mountainside's treatment programs for alcohol and drug abuse, visit http://www.Mountainside.com.
About Mountainside Drug Rehab and Alcohol Treatment Center
Mountainside is nationally recognized for the effectiveness of its drug and alcohol addiction treatment programs. Our Integrative Care Model provides a comprehensive set of treatment and care offerings coordinated by a multidisciplinary treatment team to best fit the unique needs and interests of each client. We are lauded for our ability to partner with each client and the client's family and healthcare professionals in developing and executing individualized treatment plans that promote long-term sobriety.