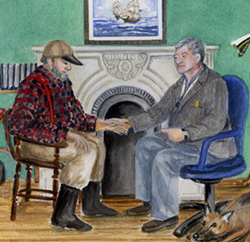 (PRWEB) May 02, 2014
While the state of Maine may be acclaimed for serving as the home of Acadia National Park, visitors and residents alike are never bashful to rave about the state's 3,748 miles of rocky and enchanting shoreline. It is along the Pine Tree State's diverse geologic shores where one can find an area that sits directly across from Acadia, a classic fishing village known as Winter Harbor. With a year-round population of fewer than 1,000 residents – community services are provided thoroughly and compassionately, each with a smile.
Whole-heartedly providing Hancock County residents with quintessential services pertaining to everyday life, Dr. Benjamin Newman of Winter Harbor is a medical practitioner that has become widely-acclaimed as one of Down East Maine's most polished and proficient clinicians. A proud veteran that served in the United States Navy for forty-four years, Dr. Newman has engaged in three combat tours of duty and profoundly advocates for the appropriate health management of long-serving veterans.
Patients arrive for an appointment at this Winter Harbor location only to notice that there are a few – if any at all –other patients in the waiting room at the same time. A featured perk of choosing Dr. Newman as a primary physician, Dr. Newman's unique and individualized patient care approach is a substantial component of what has been deemed "old-fashioned" healthcare. That means no computers, no clicking and inputting – just an intimate, one-on-one consultation that is comprised of confidentiality, security and the utmost privacy.
Dr. Newman meets with patients in a home-style consultation room, setting an environment that serves as a patient living room. Each consultation comes complete with an extensive review of a patient's previous medical history, as well as with a fulfilling educational experience that highlights the pros and cons of any emphasized treatment. Additionally, this Winter Harbor doctor supports and practices a distinctive alternative and holistic medicine approach, featuring unconventional alleviation options such as organic dried therapy and acupuncture.
Whether patients present problems surrounding personal health complications such as weight management, chronic or debilitating conditions or underlying unresponsive diagnoses – Dr. Benjamin Newman of Winter Harbor is a people's physician who establishes a palpable medical bond of trust. The only individual who is capable of viewing a patient's records, this Hancock County doctor's office ensures patients that trust is earned from the moment an individual walks through its doors.
Experience is abundant at Dr. Benjamin Newman's office in Winter Harbor, Maine – a quality that is not taken for granted, especially in the field of healthcare. Patients located in an around Hancock County – as well as those located in the Down East portion of Vacationland – are welcomed to utilize the unique services provided by this Winter Harbor doctor. As one of the few remaining independent practitioners in the state of Maine, patients seeking an alternative treatment option are able to sit down face-to-face with this reputable physician and discuss the many possible treatment regimens that are available for a specified condition.