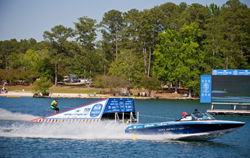 Pine Mountain, GA (PRWEB) April 30, 2014
The 55th Masters Water Ski & Wakeboard Tournament will be on May 23-25, 2014, in Pine Mountain, Ga. at Callaway Gardens. The 2014 Masters Media Credential form is attached for those interested in covering the event for respected media outlets.
Below are the instructions to the online media kit, which includes high resolution images from the 54th Masters, course records, event milestones and history.
Nautique Media Manager Login Information:
http://www.nautiques.com/mediamanager/
Once you log in to the site, the left side of the screen, click on the 55th Masters Media Kit. You will notice a preview thumbnail to the left of the download link; this allows for a quick view prior to downloading a given image. To download, choose an image, logo, or PDF, then click directly on the download link. If you have any questions or comments, please contact me via email or my direct line below.
Please visit http://www.masterswaterski.com for more information regarding athletes, event schedule, tickets and such.