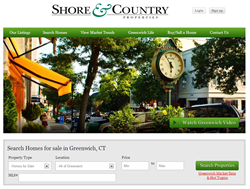 Riverside, CT (PRWEB) May 01, 2014
The real estate business is always challenging. But it will be a while before most Greenwich agents forget the challenges of the first three months of 2014. Ice, snow, frigid temperatures plus more ice and snow seemed to make listing and showing homes nearly impossible.
Yet in spite of what seemed like an endless winter, the Greenwich real estate market performed very nicely during the first quarter. The average price climbed 20 percent compared to the first quarter of 2013 to $2,660, 274. And the most active price range? The $2-3 million price point, which saw a 300 percent increase in the number of units sold, jumped from seven to 28 homes. Another busy price point was the $3-4 million price range, up 143 percent, which posted 17 single family home sales versus seven in 2013. Riverside continues to be the hottest area of town for most buyers, but the business is also seeing mid-country selling well. The higher end of the market also saw a 200 percent gain with three sales over the $10 million price range, not including the record setting $120 million sale of Copper Beech Farm which closed April 10.
Which begs the question, if Greenwich real estate was this busy during a most brutal winter, how well will the second quarter perform? And how long will the spring market last?
Russell Pruner, broker and partner at Shore & Country Properties said, "We have yet to see a sustained active market this spring. It seems to be active one or two weeks and then go quiet for a week or so. Could be weather, school vacations or holidays or a combination of all of them. We still expect that sustained activity period, which if it does happen, will happen very soon."
When asked about the profile of today's buyers, Pruner stated, "We have plenty of people looking but they are extremely picky and willing to wait for the best property for them. They do not want to do work, but want to move right in."
Nancy Healy, another partner at Shore & Country Properties noted, "For sellers, it's a two-week market. If you don't have an offer in the first two weeks, chances are your home is overpriced and the buyers have moved on."
This is evidenced by the number of multiple offers for homes that are well priced. While these seem to rarely go more than 2-5 percent over the asking price, the winner is usually not the buyer with the highest price, but the buyer with the best price and terms.
A lack of well-priced inventory still seems to be the biggest complaint for agents and buyers alike. The first quarter was down 3 percent over 2013, peaking at 518 homes. The rental market seems to have dramatically tightened, especially in the mid to high-end price ranges.
"Builders and sellers who were unable to find buyers for their properties during the slower market often resorted to renting until the market improved," explained Amy Whitlaw, sales associate at Shore & Country Properties. "Now that it has improved, they are back to selling, so we've lost that segment of rentals."
For a complete look at how the first quarter performed in all price points in Greenwich, please visit the Shore & Country Properties website at http://www.shoreandcountryproperties.com/ or click here for a short video about how the first quarter of 2014 performed: https://www.youtube.com/watch?v=M_L3qBHqw84.
About the company:
Shore & Country Properties was originally started by Russell Pruner in 1989 as Russell Pruner and Associates. His vision for a company comprised of the town's best full-time real estate professionals. Nancy Healy joined the company as a partner in 1996. Since starting her career in real estate in 1987, Healy has been one of the town's busiest and well-respected realtors. Recently, her peers voted her one of America's Most Preferred Realtors. The year 2000 brought the addition of two more partners, Joan Epand and Ken Yorke. Each added yet more talent to the group, from Epand's marketing expertise to Yorke's sharp accounting skills and operational abilities.
Both Pruner and Healy have served multiple times as president of the Greenwich Association of Realtors and the Multiple Listing Service and given their time to work on other committees. As a result, they have a unique understanding of what it takes to run a successful real estate firm. And by carefully selecting only agents who represent the best of Greenwich, Russell Pruner and Associates quickly grew to become the leading independent real estate firm, serving all 50 square miles of Greenwich and lower Fairfield County.
"We handpick respected agents who demonstrate the integrity, expertise and personal touch that clients deserve when buying or selling their most valuable assets."
In 2003, Russell Pruner and Associates became Shore & Country Properties to let consumers know they service every neighborhood from the back country to the shore line. For the past 13 years, Shore & Country Properties has been the no. 1 real estate company in Greenwich by selling their listings in the fewest number of days and with the highest original list price to sales price. They continue to lead the Greenwich market in transactions and dollar volume while providing unparalleled service to their clients. For more information, visit their website at http://shoreandcountryproperties.com/.