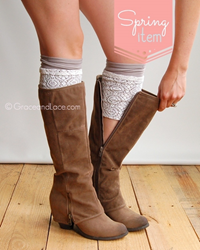 Expect more beautiful designs and new products from Grace and Lace.
Austin, TX (PRWEB) April 29, 2014
Four months after its first feature episode on Shark Tank, Grace and Lace appeared on the ABC show again on Friday, April 4, 2014. The second coverage featuring Grace and Lace highlighted updates on the company, including a brand new line of products for the Spring led by the all-new Crochet Lace Tunic (worn by Melissa in this update segment), and how well the company has been received by customers since its debut on the show.
Grace and Lace owner, Melissa, was excited to share what has been going on with the company. She admits it caught her by surprise when the ABC show wanted to film an update. Not all of the companies who pitch their ideas on Shark Tank and make a deal, end up with a second feature. It is remarkable that Grace and Lace was given the spotlight once again, a mere four months after airing on the show the first time.
In the first installment, viewers learned the story of how Melissa ended up with what she calls her 'accidental company.' As a young girl, she loved 'do it yourselft' projects, a passion she got from her mother who had the knack for creating and making homemade play dough and birthday cakes, and sewing dance costumes and more. From her, Melissa learned how to sew a straight line at a young age.
Despite an interest in sewing, she never imagined it would lead her to managing a full time company in 2011. Looking back, Melissa finds this time both a tragedy and a blessing. Around this time four years ago, she was five months pregnant with a little girl. At a routine doctors visit, it was revealed there were complications.
For the next two weeks, Melissa stayed on bed rest in the hospital, with doctors trying to delay the onset of labor as much as possible. She was given emergency surgery in an attempt to save the baby and with nothing to do but lie down, the best way she thought to pass the time was to do something with her hands. She decided to crochet and that is what she focused on. She had her mind on a baby girl blanket for her daughter. For days, crocheting this blanket was all she wanted to do and she did, while living in the hospital.
It was a heart breaking experience, but Melissa always believed that the storms of life are instruments to be better and to do something better. Out of this experience, her love for sewing grew every day, until the late fall of 2011 came where she made a breakthrough she did not expect.
She made her first pair of boot socks just for herself, and wore them out. The reaction of several woman who saw her was remarkable. Everywhere she went, people asked her where she bought the boot socks. Curious, Melissa put the first pair up for sale online and it only took a few days for her to get overwhelmed with orders. She realized it was impossible for her to fill these orders by herself.
Just a few years have passed since she sold her first pair of boot socks. Grace and Lace is now the rising company that it is today, offering a wide assortment of accessories in boot socks, leg warmers and more, that are marked by their frilly laces, beautiful designs, and noticeable comfort. The company has changed and grown so much in the recent years with trademark designs, a full studio and warehouse, and a staff of friends and family. The success has been so big it made it on ABC's Shark Tank a second time for an update, and fans can expect more beautiful designs and new products from Grace and Lace.