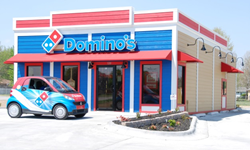 The level of detail and thought put into every aspect of the project in design and execution of the finished product brings a great deal of pride to our team.
McKinney, Texas (PRWEB) May 01, 2014
Today, ICON Construction, a general contractor specializing in the design and build of modular, permanent modular and modular re-locatable buildings, announces its involvement with Domino's Pizza's new moveable franchise in Farmington, Arkansas. The new venture, Modom (Modular Domino's Inc.), recently held a soft opening in late March, where it was met with overwhelming success, servicing more than 200 orders within a few hours.
The 1380 square foot moveable modular structure offers all the amenities of a full-sized commercial kitchen with its large walk-in cooler, state of the art pizza-oven and drive through window for patrons on the go. Post assembly, these buildings are virtually indistinguishable from typical site-built restaurants and offer each franchise uniqueness and diversity in floor design.
When the franchisee owner, Brad Medders, was asked about the new restaurant, he replied that he believed it will be a "Home Run".
The global pizza delivery service chose to test this innovative modular concept based on the ability to adopt an expedited schedule. The speed of construction helped provide Domino's a faster ROI since modular construction compresses the time spent on the building and site work, reducing a typical completion schedule by up to 50%. This method also offers the international brand lower initial and overhead costs as well as a mobility option, allowing owners the opportunity to easily move the structure out of markets that don't do well.
This new trend among franchises isn't surprising given the tax benefits which inland stores are entitled to. Rather than choosing the option of a costly rental space, modular structures owned by the franchisee, along with a land lease option, deliver the franchisee a cost effective solution without locking them into a specific location. This revolutionary concept frees up stores to plan and test markets in new cities with less financial risk.
"The Dominos in Farmington was a very exciting and rewarding project to be a part of. The level of detail and thought put into every aspect of the project in design and execution of the finished product brings a great deal of pride to our team." Eric Salomone, Building Design Lead
About Icon Construction: is proud to be the only small business, Veteran and Native American owned manufacturer of modular structures in the U.S. For the past 15 years, their experienced team has provided customers with outstanding service from beginning to end. Icon continuously strives to build the highest quality modular buildings in the industry & deliver products that are superior to its competitors. Since April 1, 1998, Icon Construction has been able to meet the space needs of many major markets including military, education, administration, health care, government, commercial and residential facilities. For more information please visit: http://icon-construction.com/
About Domino's Pizza(R): Founded in 1960, Domino's Pizza is the recognized world leader in pizza delivery, with a significant business in carryout pizza. It ranks among the world's top public restaurant brands with its global enterprise of more than 10,800 stores in over 70 international markets. Domino's had global retail sales of over $8.0 billion in 2013, comprised of nearly $3.8 billion in the U.S. and over $4.2 billion internationally. Its system is made up of franchise owner-operators who accounted for over 96% of the Domino's Pizza stores as of the fourth quarter of 2013. The emphasis on technology innovation has helped Domino's reach an estimated $3 billion annually in global digital sales. For more information please visit: http://www.dominos.com/
Media Contact: Joe Green jgreen(at)icon-construction(dot)com