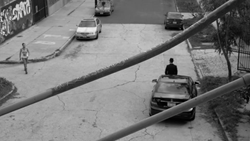 Los Angeles, CA (PRWEB) May 01, 2014
NewFilmmakers LA LA film festival aims to showcase truly independent filmmakers and to maintain the integrity of storytelling. This month's NFMLA program highlights the local feature film Aldo, as well as international films from Spain and Korea.
Detailed program information for the NewFilmmakers LA film fest, taking place on May 10th at the AT&T Center in Downtown LA is available below:
ALDO - Director Ross Kolton
Aldo is about an independent hair stylist living in Echo Park, who, after placing a do or die bet on a basketball playoff series, finds himself in deep trouble with an underground loan shark.
The film began its journey as a documentary following a real hairstylist in Echo Park. When the filmmakers realized that they had the ingredients for a great narrative, and turned the unscripted footage into a feature length film despite having no budget.
Prior to this, director Ross Kolton had worked as a director, camera operator, and editor on shorts, music videos, and online content for companies such a Vice, E!, and the Deathsquad network. The film stars Dane Mazzei, Jon Abrahams (Non-Stop, Hitchcock, Meet the Parents) and Patrick Brennan (Agents of S.H.I.E.L.D., The Twilight Saga: Breaking Dawn).
RECOIL - Director Evan Matthews
Recoil director Evan Matthews earned his Masters degree at USC's School of Cinematic Arts in writing and directing. His mentors during filming include Academy Award winning Visual Effects artist Michael Fink (The Golden Compass, Blade Runner, Avatar), producer Michael Peyser (The Warrior's Way, U2-3D), and writer Bil Marsilii (Deja Vu.)
The film is about Marshall, who discovers a deep space distress call from his estranged brother and must choose between saving himself or venturing into the unknown for a chance at redemption. It stars John Ruby (Don't Trust the B..., 2 Broke Girls, CSI, Castle), John Bobek (When A Stranger Calls, Desperate Housewives, Castle, The Westwing), and James Arnold Taylor who is known for his voice-over work on Star Wars: The Clone Wars TV Series and Johnny Test.
SHE BE THE ONE - Director Marko Grujic
A young man, Casey, is woken up by a phone call from a girl he doesn't remember. She tells him some unpleasant news that become even more unpleasant when they pay Dr. Marco a visit.
Siberian director Marko Grujic moved to the United States in 2001 and studied theatre and film directing at Columbia College Chicago. Lead actor Aaron Dalla Villa has danced as a principal dancer with multiple professional dance companies including Nashville Ballet, Minnesota Ballet Theatre, and Chicago Dance Crash. Aaron was also selected to be one of the top 40 male singers flown to LA for The Glee Project: Season 2.
TASTE IN GUYS - Director Michelle S. Yu
A young girl goes to the market, night after night, to find a guy with the same tastes as her. She follows different guys in order to buy the same items as they do. Will she find her match?
From South Korea, this short comedy stars Kkobbi Kim who has won three Best Actress awards (Asian Film Awards, Blue Dragon Awards, Las Palmas film fest) for her role in the Korean independent film Breathless.
TIN & TINA - Director Rubin Stein
Tin and Tina are not eating their puree tonight...this could mean trouble! A dark one-take horror short with touches of Poe, Haneke, and Del Toro, Tin & Tina is sure to make your skin crawl.
This Spanish film has gained honors at multiple film festivals around the world including Medina Film Festival in Spain, Black & White Oporto Film Festival in Portugal, Abertoir International Film Festival in the United Kingdom, and Festival de Courts Metrages de la Cote Bleue in France. In 2010, director Rubin Stein directed Panic which won more than 20 international filmmaking awards and was nominated for the European Golden Melies.
CANE CREEK - Director Adam Rosenbaum
Set deep in the Southern backwoods, Cane Creek tells the story of childhood sweethearts Knox and June who are reunited under the worst circumstances they could imagine.
Brad Leland (Veep, Friday Night Lights, Hancock) stars in this dark twist on the classic coming of age tale.
IN THE DARK - Director Bettina Bilger
A modern comedy that takes us through the different stages of a new relationship, initial attraction, jealously, miscommunication and obsessive behaviors.
LIFE IS SWEET - Director Chris Valenziano
Noah, a small town ice cream man with dreams of moving to New York, wants nothing more than to make a few bucks so he can get the hell out of there. But when he meets Emma, a free-spirited girl visiting for the summer, she shows him another side to both his hometown and his outlook on life, as she learns the tragic truth about what Noah's really running away from.
MR. CHAVAN - Director Edward Shieh
A young dedicated home-care aide to an isolated elder man is burdened with an unexpected and lonely responsibility.
THE OPERATOR - Director Sam Barnett
Operator is a stop motion animated short film about a man named Bob, attacked by a bio-mechanical parasite, fighting for his life and family against forces much greater than himself.
THE RACE - Director J.D. Ramage
Today is the day before the big track meet, where runners Zach and Nathan will face each other for the first time in the season. At first glance we see a race between two great athletes, with the winner receiving glory for himself and bragging rights for his school. But a deeper look into the minds of these runners show a different perspective on running, competing, and what it really means to win.
About the Venue:
Located in Downtown LA, AT&T Center is the Presenting Venue Sponsor of NFMLA. Founded in 2007, NFMLA has screened over 750+ films from over 43 countries. NFMLA boasts over 20,000 supporters locally. The organization provides a forum where filmmakers can be recognized with title supporters Sony Pictures Entertainment, Wells Fargo, SAG-AFTRA and LA Weekly.
For information and to purchase tickets to the NewFilmmakers LA May 10th screening, please visit http://www.newfilmmakersla.com/.