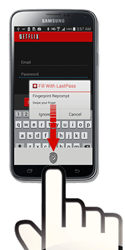 Fairfax, VA (PRWEB) April 29, 2014
LastPass, the leading password management service, has enabled Samsung Galaxy S5 users to gain access to the LastPass Android app using fingerprint authentication. This new feature gives customers the opportunity to access secure information more quickly without compromising the high level of security on LastPass' mobile platform.
The updated version of LastPass' Android app leverages the smartphone's fingerprint sensor for a faster, more secure way to login to accounts. After initially logging into LastPass, users will be able to access stored password information with a swipe of their finger. Instead of typing in their master password each time, anytime a user is prompted for their password or PIN, they will have the option to quickly unlock secure information using their fingerprint.
This latest update to LastPass' mobile platform reinforces the idea that consumers don't need to sacrifice convenience for security. The biometric feature provides an additional level of security to safeguard users from threats when their phone is lost or stolen.
"In the wake of recent Internet security threats, we are excited to be able to provide our customers with another layer of biometric security, consistent with what we've done on the desktop for years," said Joe Siegrist, LastPass CEO and Co-Founder. "Using fingerprint authentication saves LastPass users time by eliminating the need to re-enter the master password, but more importantly, it provides an additional layer of security. Knowing that a personal fingerprint is the only route to access critical information stored in the LastPass app eases our customers' minds and helps mitigate the risk for a potential security breach in the future."
To download LastPass's Android app, visit
https://play.google.com/store/apps/details?id=com.lastpass.lpandroid.