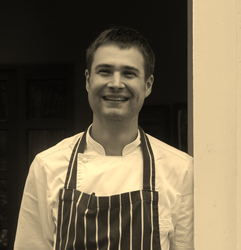 West Hoathly, United Kingdom (PRWEB) May 13, 2014
Gravetye Manor, the 2014 AA Hotel of the Year England, has appointed George Blogg as their new Head Chef. Blogg brings a wealth of experience to the position, working in some of the U.K.'s finest restaurants, including The Ledbury in Notting Hill, The Square in London, Le Champignon Sauvage in Cheltenham, aux Quat' Saisons in Oxfordshire and most recently, the award-winning Hotel TerraVina in New Forest.
A 2011 Acorn Winner, Blogg describes his new appointment as "a once in a career opportunity that was a perfect match to realize my ambitions as a chef." In his new role, Blogg 's vision is to creatively construct a menu based on four fundamental principles – harvests from Gravetye's abundant kitchen garden, foraged products from the grounds of the vast estate, traditional smokehouse techniques and the use of local suppliers that source only the very best of ingredients.
Gravetye Manor is a quintessential English Country House set on 1000 acres of parkland in Sussex, England. Its 35 acres of gardens carefully cultivated by William Robinson over fifty years are considered amongst the most influential in gardening history.
About Rebecca Recommends:
Rebecca Recommends is a quality, service-driven company offering sales and marketing representation to independently owned and award winning luxury hotels, country manor hotels, historic residences, tour and destination management companies worldwide. Rebecca Recommends is highly regarded in the North American luxury travel market http://www.rebecca-recommends.com/.