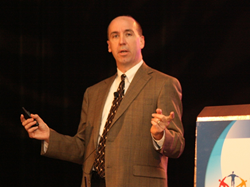 Welcome to the future. It has arrived. Now we need to wake up and embrace the fact that technological advances are poised to change and disrupt virtually every industry.
San Francisco, CA (PRWEB) April 30, 2014
Described as "an extremely knowledgeable and engaging facilitator" and "the hit of the show" futurist Jack Uldrich is crossing the country speaking on topics such as The Internet of Things, How to Future-Proof Your Business, and Unlearning.
Throughout the month of May, Uldrich has nine engagements scheduled across the US, six of which are with Verizon Wireless addressing the topic of "How the Internet of Things will Transform Business." Uldrich's keynotes for Verizon's "Connected Technology Tour" will mainly focus on the opportunity, excitement and potential for new machine-to-machine (M2M) technology that will be available in the next few years. Uldrich will also speak on why future trends demand unlearning to the Utility Supply Management Association and the Produce Marketing Association.
Uldrich's current list of May 2014 keynotes include:
May 6: Verizon's Connected Technology Tour, Kansas City, MO
May 8: Marana, AZ: Fireman's Fund Insurance Companies (Property and Casualty Insurance)
May 14: Verizon's Connected Technology Tour, Houston, TX
May 15: Verizon's Connected Technology Tour, Boise, ID
May 19: Nashville, TN: Utility Supply Management Association
May 20: Verizon's Connected Technology Tour, Memphis, TN
May 21: San Diego, CA: Produce Marketing Association
May 22: Verizon's Connected Technology Tour, Nashville, TN
May 29: Verizon's Connected Technology Tour, Los Angeles, CA
Uldrich is a renowned global futurist, independent scholar, sought-after business speaker, and best-selling author who's works include The Next Big Thing is Really Small, Higher Unlearning: 39 Post-Requisite Lessons for Achieving a Successful Future and Foresight 2020: A Futurist Explores the Trends Transforming Tomorrow.
His other written works have appeared in The Wall Street Journal, BusinessWeek, The Futurist, Future Quarterly Research, The Wall Street Reporter, Leader to Leader, Management Quarterly, and hundreds of other newspapers and publications around the country. A sample of his writing can be viewed in this Forbes article.
A frequent guest of the media—Uldrich has appeared on CNN, MSNBC, National Public Radio, and as a guest commentator on James Woods "Futurescape."
Parties interested in learning more about Jack Uldrich, his books, his daily blog or his speaking availability are encouraged to visit his website at: http://www.jumpthecurve.net. Media wishing to know more about the event or interviewing Jack can contact Amy Tomczyk at (651) 343.0660.