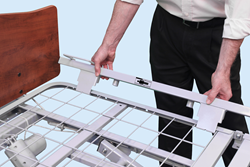 Greenville, SC (PRWEB) April 30, 2014
Span-America Medical Systems, Inc. introduces a 42 inch expander kit for its Rexx and Advantage models following the recent introduction of its premium Encore bed with advanced caregiving features such as on-board ReadyWide® sleep surface expansion.
Engineered for easy attachment and sturdy support, the new expanders allow the Q-Series beds to provide increased user comfort and an added level of safety during repositioning. In fact, published studies indicate that a wider sleeping surface can reduce the risk of falls, particularly in residents accustomed to sleeping on a common consumer product.
Installation of the expanders is intuitive. The expander units tool-lessly attach and detach following removal of the corner mattress retainers. A spring loaded latch fastens the expander units securely to the underside of the head, knee and foot decks. The kit includes form-fitted molded foam storage units to support long-term use.
Span's half-head assist rails – in molded plastic or steel – are fully compatible, fitting to the expander unit before it is attached to the deck. Since the 2012 acquisition of beds and furniture manufacturer MC Healthcare Products, Span has facilitated consistent innovation of its beds series.
About Span-America Medical Systems, Inc.
Span-America manufactures and markets a comprehensive selection of pressure management products, beds and furniture for the medical market, including PressureGuard®, Geo-Mattress®, Geo-Matt®, Span+Aids®, Selan® and MC Healthcare products. The company also supplies custom foam and packaging products to the consumer and industrial markets. Span-America's stock is traded on The NASDAQ Stock Market's National Market under the symbol "SPAN".