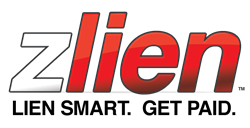 "This program not only enables participants to file an unlimited amount of notices but it gives every client the same ability to completely overhaul their company's receivables."
New Orleans, Louisiana (PRWEB) April 30, 2014
zlien is a resource platform that reduces credit risk and default receivables for contractors and suppliers by providing full control over mechanics lien and bond claim compliance. After recently securing $1 billion in receivables for members of the construction industry through use of the platform, zlien is launching a new pricing model to empower small business clients. The model is designed to provide small businesses with the same access to the software platform that has helped Global Fortune 500 companies secure payment.
The program operates through three levels of membership: Basic, Pro, and Premium. For $39 a month, members of the Basic program can utilize deadline tracking and unlimited notices for 3 new projects each month, in addition to 10% off standard lien pricing. For $129 a month, members of the Pro program are empowered to use deadline tracking and unlimited notices for 10 new projects each month, with a 15% discount off standard lien pricing. Premium members receive deadline tracking, unlimited notices and 20% off standard lien pricing for $199 a month. There is no charge for postage on notices, and lien waivers plus varying degrees of customer support are provided depending on the level of membership.
"We believe that small companies should have access to the same technology that large companies have access to," said zlien's Director of Business Development, Martin Roth. "Ultimately we want companies of all sizes to secure their lien rights and improve their bottom line using our technology."
The program will streamline the process of real-time, automated notice tracking for all of its users, which incorporates the ability to track lien deadlines. Once a project is open, it can either be marked as "Send to Collections" or "Archive as Paid," allowing members to take full control over collections. The system's methodology aims to lower DSO's and create cash flow for members of all levels.
"Securing payment for contractors and suppliers, especially lower-tiered parties, is our number one priority," said zlien's CEO Scott Wolfe. "This program not only enables participants to file an unlimited amount of notices, but it gives every client the same ability to completely overhaul their company's receivables."
Wolfe is a licensed attorney in six states with experience in corporate credit management and collections law, including the use of mechanic liens, UCC filings and other security instruments to protect and manage receivables. He is the founding author of The Lien & Credit Journal, and his work has been featured in Bloomberg Law, CFMA's Building Profits, Construction Executive, Supply House Times, and The New York Times.
About zlien
zlien provides software and services to help building supply and construction companies reduce its credit risk and default receivables through the management of mechanics lien and bond claim compliance. Founded by experienced construction attorneys, zlien is the leading publisher of mechanics lien and bond claim resources and analysis, and has led the industry in innovating credit risk management solutions by utilizing the lien and bond claim laws. Learn more at http://www.zlien.com