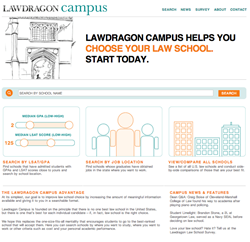 New York, NY (PRWEB) May 01, 2014
Legal media company Lawdragon Inc. announces the launch of Lawdragon Campus, a new division dedicated to legal education. The website allows prospective law students to search for law schools based on metrics that fit their career interests.
Lawdragon Campus has built a profile for every law school in the United States. Students can search for schools by where they want to go to school or by where they want to work, along with other filters such as total cost of tuition and fees, school accreditation status and availability of part-time programs. They can input their LSAT score and GPA - two major factors in determining law school admissions - to view the schools that match their academic performance. In addition, Campus provides the data for national and state employment rates, curriculum strengths and diversity population. Users can compare the data of up to eight schools at a time to assess which school is the best fit for their academic and professional interests, as well as their personal circumstances.
The site also provides legal education news along with features on students, law school deans and prominent alumni. In each school profile, attorneys featured on the Lawdragon site will be posted as notable alumni of their law school.
"Our goal is to improve law school choice by increasing the amount of meaningful information available and giving it to you in a searchable format," said Katrina Dewey, founder and CEO of Lawdragon. "Students can be the ones to build their own law school ranking."
About Lawdragon
Founded in 2005, Lawdragon is a fast-growing new media company that offers a unique platform for lawyers to reach consumers. In addition to attorney guides such as the Lawdragon 500 and the new Insights series, the website provides free legal news and features as well as a searchable database of legal professionals that includes online profiles of attorneys and firms. In April 2014, Lawdragon launched Lawdragon Campus, a new division, to provide better information on legal education for consumers.