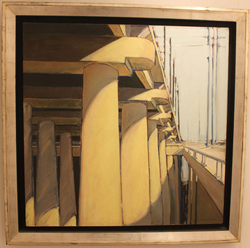 This exciting sale offers distinguished Contemporary Art collectors the chance to procure works by two prolific American artists, Ralston Crawford and Alexander Calder.
(PRWEB) May 01, 2014
Kaminski Auctions of Beverly, Massachusetts is preparing to host an outstanding 20th Century auction, featuring a selection of work by highly sought after European and American artists.
Of great interest is a work by Swiss-born artist Diego Giacometti. Potential bidders got their first glance at The "Torsade" table at the New York Pier Art & Antiques show in late March 2014. The current owner, whose mother purchased the sculptural table through a private sale at Christie's approximately thirty years ago, has presented the item for sale. This work, circa 1965, carries the "Diego" signature twice on the horizontal supports and is offered with the original glass top. Examples of this table have commanded high prices around the world; experts at Kaminski expect the current example to sell between $200,000 and $300,000.
An oil work by Antonio Lopez-Garcia proves to be another highlight of this exciting sale. Estimated between $50,000 and $75,000, the record for an oil on board by this artist stands at $2.4 million. Entitled "Two Lovers", circa 1962, this work was purchased by the current owner directly from Galeria Juana Mordo in 1968. The painting is exemplary of Lopez-Garcia's surrealist period and is accompanied by various pieces of literature that chronicle the artist's quiet rise to fame. The work of Antonio Lopez-Garcia is included in the private collection of the Museo Nacional Centro de Arte Reina Sofia in Madrid, Spain as well as in the Museum of Fine Arts, Boston.
Also up for auction is a painting by renowned American artist Ralston Crawford. "Series #10" showcases Crawford's obvious interest in architectural forms and supports his classification by art critics as a "Precisionist." This work commands attention from buyers with an estimate of $150,000 to $250,000. From the same private collector comes a verified work by Alexander Calder. The untitled crayon and pencil on cut paper is registered in the archives of the Calder Foundation, New York, under application number A18089 and is expected to fetch $20,000 to $30,000.
Preview for the sale will be held Wednesday through Friday, May 7th through May 9th at the Kaminski gallery in Beverly from 10:00am to 5:00pm daily. The auction will take place Saturday, May 10th at 10:00am, with online bidding available through the KaminskiLIVE bidding platform.