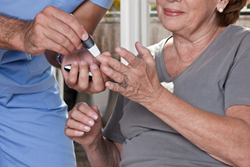 Around 15 million people in the world are affected by Type 1 diabetes, and the number of new cases is rapidly increasing. This rapid increase over the last decades indicates that environmental factors must play an important role in the disease process
(PRWEB UK) 30 April 2014
Type 1 diabetes is a disease caused by the destruction of the insulin-producing cells in the pancreas. It is often diagnosed in childhood and requires life-long treatment with daily insulin injections. It is associated with an increased risk for long-term complications which decrease the quality of life and average life-expectancy. Currently around 15 million people in the world are affected by this disease, and the number of new cases is rapidly increasing. This rapid increase over the last decades indicates that environmental factors must play an important role in the disease process.
Type 2 diabetes is a chronic disease that causes glucose levels in the blood to become too high. It develops when the body is unable to produce enough insulin or when the insulin that is produced does not work properly. Type 2 is associated with 24,000 excess deaths each year, mainly from cardiovascular disease. People with type 2 diabetes have epigenetic changes on their DNA that healthy individuals do not have. This has been shown in a major study by researchers at Lund University who also found epigenetic changes in a large number of genes that contribute to reduced insulin production. "This shows that the risk of developing type 2 diabetes is not only genetic, but also epigenetic," said the Charlotte Ling the leading author of a study published in last year's Diabetologia Journal. http://bit.ly/1haqyVg
Epigenetic changes occur as a result of factors including environment and lifestyle, and can affect the function of genes. Charlotte Ling and her colleagues have analysed insulin- producing cells of both healthy individuals and patients with type 2 diabetes. The analysis revealed epigenetic changes in approximately 800 genes in those with type 2 diabetes. Over 100 of the genes also had altered expression and many of these could contribute to reduced insulin production. Reduced insulin production is one of the underlying causes of type 2 diabetes. http://bit.ly/1cW9d0w
An international collaboration of research scientists from the USA and Sweden at the Broad Institute in Cambridge, Massachusetts, which has links with Harvard Medical School, discovered a mutation that destroys a gene with an important role in the insulin-secreting cells of the pancreas. This rare gene mutation lowers the risk of type 2 diabetes by almost two-thirds, and could protect even the obese and elderly from developing Type 2 diabetes. Although the effect of the gene variants that were identified in this study was very large – a 65 percent reduction of diabetes risk – the mutations involved are very rare. Only people in west Finland and Iceland appear to have the protective gene variant in relatively high numbers. http://bit.ly/1iy3Hm4
People carrying the mutation appear to make slightly more insulin and have slightly lower blood sugar levels for their entire lives. The mutation – within a gene called SLC30A8 – is so rare that it was found only by testing 150,000 people. It is the first time that a mutation which destroys a gene has proved beneficial, making it a particularly powerful target for drug development. The results, published in the journal Nature Genetics, http://bit.ly/1mWmhJW were seen in patients from several ethnic groups, suggesting any drug which is developed could be effective around the world.
"Such genetic associations provide important new insights into the pathogenesis of diabetes, potentially leading to the discovery of drug targets, which may result in a novel medicine," said Tim Rolph, vice president of Pfizer, who was involved in the study, although he warned that it can take between 10 years and 20 years to get developed into a viable treatment. Pfizer and Amgen, owners of deCODE, are already planning to use these findings for drug development. Though existing medicines slow the disease's progression, many patients still do not have their condition properly managed by current treatments. http://dexpr.es/1hagaNs