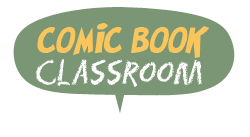 By bringing in these new board members with their own areas of expertise we're ready to deliver on the full potential of pop culture in education.
Denver (PRWEB) April 30, 2014
Comic Book Classroom (CBC), a Denver-based nonprofit designed to help promote literacy through pop culture—including its popular Denver Comic Con and Literary Conference (DCC), today announced five new board members: Derek Dye, Scott Franssen, Robert Keosheyan, Seyan Lucero and Scott Neilson.
The new board members join board chairman Bruce MacIntosh, vice-president Tone Ellis De Jesus and ex-officio members Dr. Christina Angel and Illya Kowalchuk.
"The rapid success of Denver Comic Con has necessitated that we advance the organizational infrastructure of Comic Book Classroom to match is trajectory," said Christine Tubbs, CBC executive director. "To ensure that solid and strategic growth continues in the classroom, the staff and existing board have been working tirelessly to support the mission on a greater scale than ever before. By bringing in these new board members with their own areas of expertise we're ready to deliver on the full potential of pop culture in education."
Derek Dye is the compliance manager for the Colorado Public Employees' Retirement Association. Dye brings nonprofit fiduciary experience to the CBC board.
Scott Franssen is the senior development officer for the Tennyson Center for Children, a Glendale city councilman and a board member of the Greater Glendale Chamber of Commerce.
Robert Keosheyan is the vice-president of corporate communications for Swiftpage. Keosheyan brings decades of experience in strategic counsel and implementing marketing and communications.
Seyan Lucero is the associate director of the Western States Arts Federation (WESTAF), a regional nonprofit arts service organization dedicated to the creative advancement and preservation of the arts.
Scott Neilson, CPA, CGMA, COE, OCS, is a business leader specializing in business turnaround, sustainability, and financial decision-making. He believes strongly in a democratic form of management which promotes a meritocracy based on the five fundamental pillars of Honesty, Empowerment, Forthrightness, Transparency, and Accountability ("HEFTA").
About Denver Comic Con
Entering its third year, the DCC is Denver's premiere fan experience, covering the worlds of comic books, film, and related media. It is also an extension of and an awareness builder for its parent organization, Comic Book Classroom. For the latest news and information, visit http://www.denvercomiccon.com.
About Comic Book Classroom
Comic Book Classroom is a charitable organization that educates through alternative approaches to literacy, learning, and character development. CBC creates programs for underserved students, schools, and communities via comic books, graphic novels, and related media. CBC is the organizer and producer for the DCC. http://www.comicbookclassroom.org.
###
Media Contact:
Jason Jansky, DStreet
jjansky(at)dstreetpr(dot)com
(303) 748-3300