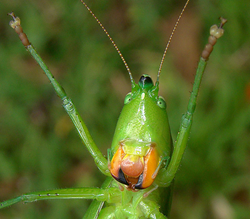 "It's like a treasure hunt - one light and a white sheet under our cabin porch brought in hundreds of large insects of dozens of species, including moths so beautiful they could be jewelry!"
Miami, FL (PRWEB) April 30, 2014
Although world famous for its bird watching opportunities, the Asa Wright Nature Centre offers so much more for the wildlife-interested traveler. A new tour offered through Naturalist Journeys and Caligo Ventures is designed with this in mind. Whimsically entitled "Bugs for Birders", popular tour leader Bob Behrstock leads a week-long session to introduce birders to other winged creatures, and a few that crawl. Behrstock has authored several books and publications on dragonflies and damselflies as well as butterflies. With keen ears and thirty years of experience leading tours to the New World Tropics, Behrstock can focus in on small and fascinating insects – without missing a bird.
Naturalist Journeys' owner and Caligo Ventures CEO, Peg Abbott, says, "I chose Bob Berstock to pilot this new tour at the renowned Asa Wright Nature Centre for several reasons but the key one is solid expertise. Behrstock has pursued insect identification for his entire career and as an accomplished field naturalist he is best suited to teach this type of skills workshop. Our goal is to have birders leave knowing they can start to identify and enjoy invertebrates. There are many hours, particularly mid-day, when birds are resting and difficult to find. Insects are active, fun to photograph, and fascinating to watch and observe with complex behaviors that few notice."
Abbott notes that insect-watching, particularly of butterflies but also dragonflies, damselflies, beetles, katydids, grasshoppers, and cicadas, is fast increasing in popularity. There are far more materials available with books being published. Behrstock hopes that participants will help him add to the Asa Wright Nature Centre's growing list of species. The island of Trinidad is known to host 617 butterflies, and with over 2100 species of flowering plants, there is much to learn about pollination, host plants, diet and life histories of these brilliant winged, gems.
Learning takes place at two locations - the renowned Asa Wright Nature Centre in Trinidad's Northern Range for five nights, and Grand Riviere, with two nights in this stronghold for rare Trinidad Piping Guans and Leatherback Turtle nesting. Participants will spend equal time studying, learning, and observing birds and insects, sometimes linked as predators and prey. Learning takes place in the field, and the itinerary is carefully designed to visit varied habitats to find the greatest array of species. Night spotlighting is always popular, often described with the thrill of a treasure hunt.
More about Naturalist Journeys' July 25 August 1 Bugs for Birders Nature and Birding Tour:
This tour is limited to 8 participants. It begins and ends in at the Port of Spain airport in Trinidad.
About Trinidad
The continental origin and proximity of Trinidad to South America, along with its varied habitats, has resulted in an extremely diverse biota. Species lists for this island are impressive, including 97 native mammals, 400 birds, 55 reptiles, 25 amphibians, and 617 butterflies, as well as over 2,200 species of flowering plants. No other area in the West Indies, and few areas of comparable size in tropical America, can match this spectacular species diversity. Trinidad is 50 miles long by about 37 miles wide, and dominated by the Northern Range, which rises to about 3,000 feet and was historically covered by tropical rainforest. Here, in this lush part of this beautiful island, you will find the magical Asa Wright Nature Centre.
About the The Asa Wright Nature Centre
Asa Wright Nature Centre is a world-class natural history destination for enthusiasts of tropical ecology. The AWNC is a "Not-for-Profit" Trust established in 1967 by a group of naturalists and bird-watchers to "protect part of the Arima Valley in a natural state and to create a conservation and study area for the protection of wildlife and for the enjoyment of all." It was one of the first nature centers to be established in the Caribbean.
More about Naturalist Journeys:
Naturalist Journeys LLC, a top birding and nature tour company, offers specialty small group tours and travel worldwide, from the western U.S. to Alaska, Hawaii and Florida, Trinidad and Tobago, Costa Rica, Panama, safaris in Africa and more. Naturalist Journey's guided nature and birding tours feature expert guides with decades of experience in birdwatching, travel photography and other forms of eco-tourism. Naturalist Journeys also offers hiking and adventure travel tours in many national parks and wildlife reserves, including the Galapagos, Antarctica and the Amazon.