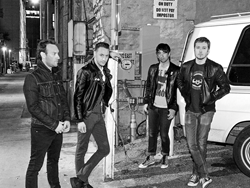 Matthew was fired from his own record label and days later releases his favorite artist's debut, "THAT LYING BITCH."
Chicago, IL (PRWEB) April 30, 2014
The prodigious and controversial Chicago rockers, "That Lying B*tch," and their label, (which we can't disclose for legal purposes either) are jubilantly celebrating the release of their debut singles "I've Been Doing Fun Sh*t Without You," and "How Am I Supposed to Hate You When I Love You."
Darren's viscerally gut-wrenching vocals over a bed of vintage punk with monster pop choruses, was conceived from a need, not a desire. The music will impress that upon you instantly, leaving no piece of the picture left to imagine.
The brilliantly playful 'F*ck You' eschewed from the busted - heart - on – the - mend anthem "I've Been Doing Fun Sh*t Without You" is, ironically, all embracing and served on a vintage - punk music bed with monster hooks that will take up residence in your temporal lobes, without your permission, without your control and without caring. And you'll be glad they did.
"How Am I Supposed to Hate You When I Love You" is their knockout punch, lest any critics irresponsibly dismiss them for their band name. No question there are some high profiled pro's in the band.
Click HERE to BUY!
THAT LYING B*TCH website facebook twitter
The story is too interesting and important to musicians, fans, and the industry, that we'd be remiss to leave it out. The Jerry McGuire meets Rocky style ending makes it worth every challenge.
Click HERE for the full story and please share with everyone you can, this will make one hell
of a statement for anyone who's ever felt like an underdog in this world.