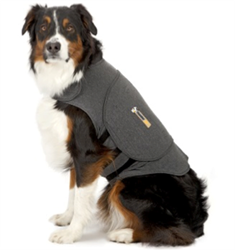 Durham, NC (PRWEB) April 30, 2014
Devastating tornadoes ripped through the Southeast, threatening tens of millions of people this week. The National Weather Service reports there was a tornado risk for Mississippi, Alabama and western Georgia as the storm system that produced the twisters headed east toward the Mid-Atlantic States. At least 30 people have reportedly been killed, more than 100 injured and significant damage to property has been caused by this ferocious storm system.
Because lost, displaced and severely anxious pets are all too common in the wake of severe weather like this storm system, ThunderWorks would like to provide these pet disaster preparedness tips to owners:

A permanent pet ID such as microchip is advised to help locate a displaced pet in case they get lost.
Photograph each pet and store these pictures with other important documents in sealed/waterproof plastic bag, and/or cloud backup with other important family documents.
Make sure that pets are up-to-date on vaccinations. Boarding kennels typically require proof of current vaccinations.
During a storm, play pet-friendly, classical music, or even run a load of dishes or laundry. The calming or familiar noise may be relaxing to pets.
Also, have a pets' favorite toy, blanket and/or bed nearby during a severe storm for additional comfort.
These tips, paired with the company's premiere product- the ThunderShirt, should help provide comfort to those pets most stressed during these severe storms.
Thousands of veterinarians and trainers nationwide use and recommend the ThunderShirt. Since 2009, this patented, proven solution has been reducing anxiety among millions of dogs and cats around the world. With its gentle constant pressure, the ThunderShirt has a dramatic calming effect for dogs and cats if they are anxious or fearful. Similar to the effect swaddling has on a newborn baby; the most common anxiety triggers in our pets are relieved due to the ThunderShirt's unique design which assists in releasing calming hormones like endorphins or oxytocins. ThunderShirt can be beneficial for excessive barkers during time alone or outside, easing separation anxiety and making the dog feel calmer during their owner's absence.
For dogs requiring added distraction, ThunderWorks also offers the ThunderToy and ThunderTreat, an anti-anxiety, puzzle toy combination, as well as the ThunderSpray which calms and comforts pets by mimicking a mother's natural pheromones and is comprised of soothing fragrances of lavender and chamomile.
For more information about pet-related anxiety or product information, visit http://www.ThunderWorks.com. If you are a member of the media and would like more information, high-resolution images or product samples, please contact Kerry Sutherland at K. Sutherland PR, Kerry(at)ksutherlandpr(dot)com or (949) 328-4895.
About ThunderShirt and ThunderWorks
Founded in 2009 in Durham, N.C., ThunderShirt's mission is to bring relief to the millions of dogs, cats and their families struggling to cope with anxieties. The ThunderShirt is designed to apply a constant, gentle pressure to a dog or cat's torso creating a dramatic calming effect for most users. ThunderShirt continues to investigate anxiety and fear issues with scientific-based studies and surveys from recognized veterinarians and pet owners. ThunderShirt has already helped millions of dogs and cats across the country and around the world. The company also donates thousands of ThunderWorks products and funding to rescue groups and shelters to help these organizations manage their anxiety cases and find permanent homes.
In recognition of the company's expanding product line into more calming solutions, ThunderShirt has changed its corporate name to ThunderWorks. As always, the company is committed to developing calming pet products that are effective, simple to use and strengthen the bond between pet and pet parent. Together, let's be better humans to our pets. Products are sold at http://www.ThunderWorks.com and by retail stores, veterinarians, trainers and kennels across the country.