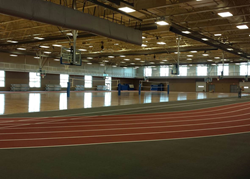 This is truly a game-changer for the town. People were blown away when they saw it for the first time.
Williston, North Dakota (PRWEB) April 30, 2014
Williston may be a small town, but it now has the largest park district-owned indoor recreation center in the country. There are hopes that the new 236,000 square foot facility will help bring more families to live in the oil patch community.
"Williston is already known for its abundance of good jobs and salaries, but we wanted to make it more attractive for families to put down roots," says Mike Amundson, Facilities Supervisor. "This new center provides an endless array of activities to keep both adults and kids entertained."
More than 2,500 locals visited the new $76M facility called the ARC, within hours of its opening - from families with small children to oilfield workers still in their overalls. "This is truly a game-changer for the town. People were blown away when they saw it for the first time," says Amundson. He says locals were lining up to try out some of the amenities, like the HD Golf simulator.
"This new recreation center is top-of-the-line. The people of Williston should be proud," says Todd Richardson, President & CEO of High Definition Golf. The company's HD Golf simulator, installed in the center, is the most accurate and realistic system available. "Residents can practice and play golf on the same simulator used by PGA Tour pros," he says.
Besides the HD Golf simulator, the ARC features indoor tennis courts, basketball courts, an indoor running track, racquetball courts, 13,000 square feet of indoor turf space, an indoor waterpark with surfing simulator, a pitching simulator and fitness areas. The center also contains a number of community rooms, including child minding, a kitchen for cooking classes, teen lounge and senior center.
Another unique feature is the ARC's northwest North Dakota theme. In the waterpark, Lake Sakakawea and the Missouri and Yellowstone rivers are represented, along with a decorative oil derrick and natural gas flares. Real fossils from northwest North Dakota that are 35 million to 95 million years old are encased throughout.
Officials hope the new center will be a huge step toward attracting more families to Williston as oil industry workers consider making North Dakota their permanent home.