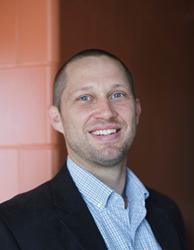 Reading, PA (PRWEB) April 30, 2014
Travis Berger, an assistant professor in the business department at Alvernia University in Reading, PA has been named the coordinator of the new Masters in Organizational Leadership program.
An expert in the areas of leadership, organizational development and strategy, he has been teaching in the business school at Alvernia since 2006.
Professor Berger drew upon his real-world experience as the managing partner of Vide Consulting Group, LLC, a consulting firm that specializes in developing leadership, organizations and strategy, to help create this program.
"Employers are demanding employees with interpersonal, critical thinking and communications skills," explains Professor Berger. "This program is perfect for engineers, accountants, project managers, executives and attorneys who need leadership skills to advance their careers."
He's often invited to present on various leadership topics on the national and regional level. Last fall, he presented at the 63rd Annual Pennsylvania Sociological Society conference. The title of his presentation was, "Reclaiming Higher Education as a Public Good: A Matter of Leadership Focus." Also, The Greater Pottstown Society for Human Resource Management (SHRM) invited Professor Berger to be the keynote presenter at their event this past February. His presentation was, "Employee Engagement: Why it Matters and How to Get There."
Professor Berger graduated with a B.A. with distinction from the Pennsylvania State University, where he was inducted into the prestigious Phi Beta Kappa Society and tapped into the exclusive Skull & Bones Society. He was a scholarship athlete on the men's soccer team where he was part of a Big Ten Championship, earned Big Ten First-Team and Academic All-American honors, and served as captain his senior year.
He earned his M. Ed. From Alvernia and continues to progress toward earning a Ph.D. in Administration and Leadership Studies from Indiana University of Pennsylvania.
About the Masters in Organizational Leadership program
This selective program is offered in a small cohort model to promote collaboration and professional growth. Classes are offered in the evenings at Alvernia's main campus in Reading, and are delivered in traditional, blended and online formats. Students who enroll in the fall cohort should graduate in fewer than two years.
The curriculum focuses on developing the knowledge, skills, abilities and behaviors essential for effectively leading teams, groups and organizations. By embracing a multidisciplinary approach, students gain a holistic perspective necessary for making decisions in today's complex business environment.
About Alvernia
Alvernia is a thriving university that empowers students through real-world learning to discover their passion for life, while providing the education to turn what they love into lifetimes of career success and personal fulfillment, helping them make the world a better place. Situated on a scenic 121-acre suburban campus in historic Berks County, Pa., the university of more than 3,000 students is conveniently located near Philadelphia (60 miles) and within an easy drive of New York, Baltimore and Washington, D.C. With a College of Arts and Sciences and College of Professional Studies, Alvernia today offers more than 50 undergraduate majors and minors and a range of graduate programs at the master's and doctoral levels through its School of Graduate and Adult Education. Satellite sites are located in Philadelphia and Schuylkill County. As one of only 22 Franciscan institutions in the country, Alvernia's focus on caring for each other, the environment and the community are joined with a challenging educational experience to provide an unparalleled environment to grow, develop and mature as a person and professional.