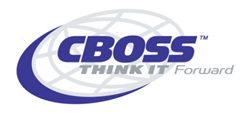 'CBOSS is known for its expertise in the design and implementation of business process automation and secure e-payment solutions,' adds Goodridge, 'and we consider it an honor to provide our specialized services to our home state.'
Boardman, OH (PRWEB) April 30, 2014
CBOSS, Inc., a recognized global technology and software developer leader, announced today the joint celebration of a major milestone with the Ohio Bureau of Motor Vehicles (BMV) OPLATES.com website: 10 million customers have benefitted from BMV's services, such as obtaining license plates, using its secure online system.
"We are proud of our long-term business relationship with the State of Ohio," explains Dawn Goodridge, Director of Client Services, who represented CBOSS in Columbus for the recognition ceremony. "Our working partnership with the BMV enables us to provide our highly-respected secure payment solution and ensure the highest quality and most efficient service to our fellow Ohio citizens."
Among those attending the ceremony was the Registrar for the State of Ohio BMV Mike Rankin, who praised his staff and emphasized the role that technology must play in the delivery of service to the BMV customers.
In 2000, the Ohio BMV awarded CBOSS the contract to create and manage OPLATES.com, one of the first online renewal systems in the United States. Since then, CBOSS has continued to provide services to the Ohio BMV and its customers.
The OPLATES online system allows customers to renew one or more vehicles and select and purchase specialty plates, all completed in minutes. The online site also makes it easy to order driver abstracts, pay reinstatement fees, replace damaged or stolen plates, and check on registration status.
"CBOSS is known for its expertise in the design and implementation of business process automation and secure e-payment solutions," adds Goodridge, "and we consider it an honor to provide our specialized services to our home state."
CBOSS, based in Boardman, Ohio, delivers results to a range of clients in 20 states, plus Latin America.
One of CBOSS' major strengths for all of its online payment clients is its specialized knowledge of the Payment Card Industry standards. The major credit card issuers created PCI compliance standards to protect personal information and ensure security when transactions are processed using payment cards.
To be PCI compliant, certain standards must be met: maintain a secure network; protect cardholder data; maintain a Vulnerability Management Program; implement strong access control measures; regularly monitor and test networks; and maintain an information security policy.
CBOSS has three certifications focusing on Information Security:

PCI DSS (for credit card data)
SSAE 16 (for effectiveness of IT controls)
ISO 27001 (for all areas of business data, IT security and operations)
About CBOSS
From enterprise software solutions to managed services, CBOSS specializes in the design and implementation of portal solutions for e-payment processing, workflow automation and content management using industry-standard platforms and tools. Since 1994 over 700 businesses and government agencies have looked to CBOSS to deliver feature-rich services and solutions that are cost-effective, reliable and secure. CBOSS has renewed its Level I compliance with the Payment Card Industry (PCI) Data Security Standard, which provides the highest levels of security for e-commerce and other e-payment processing services. CBOSS also achieved a new certification in globally accepted international accounting standards, the Statement on Standards for Attestation Engagement (SSAE) 16 Type II. Visit them at http://www.cboss.com.