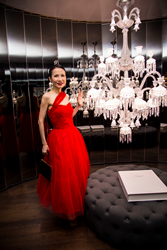 (PRWEB) April 29, 2014
Chiu-Ti Jansen, Publisher of YUE Magazine, hosted a cocktail reception on Monday, April 28, at the Baccarat Hotel & Residences New York Sales Gallery, featuring an exclusive presentation celebrating Baccarat's 250th Anniversary and its branded residences complete with luxury hotel services.
"With its roots in a French royal decree from King Louis XV in 1764, Baccarat has symbolized brilliance and refinement for the past 250 years. We are thrilled to commemorate this extraordinary legacy as Baccarat embarks on a new journey with the opening of its flagship luxury hotel and residences across from the MoMA, a symbol of art, design and modernity," said Chiu-Ti Jansen.
"It was our great pleasure to welcome Ms. Jansen and Yue readers for an intimate preview of Baccarat Hotel & Residences New York. We were thrilled to offer a sneak peek of this highly anticipated development to such an esteemed group of guests," said Mark Gordon of Tribeca Associates, the developer of the project.
The event brought together YUE readers for an evening of champagne, passed hors d'oeuvres and a special preview of Baccarat Hotel & Residences New York. Ten lucky guests also took home Baccarat: Two Hundred and Fifty Years, a commemorative anniversary book published by Rizzoli.
NOTES TO EDITORS:
YUE Magazine is the first bilingual lifestyle magazine focusing on the unique luxury experiences in the US for affluent Chinese consumers. YUE publishes four issues a year and covers fashion, jewelry, watches, art, shopping, culture, fine dining, real estate and education, offering China's sophisticated readers a multi-faceted view and a better understanding of America's elite lifestyle.
YUE Magazine is a joint venture between Observer Media (publisher of The New York Observer), and CHINA HAPPENINGS, a multimedia platform focusing on the lifestyle industries in contemporary China.
CHINA HAPPENINGS (http://www.chinahappenings.com) is a multimedia platform founded by Chiu-Ti Jansen that focuses on the lifestyle and cultural industries in contemporary China. Ms. Jansen is a TV presenter, a lifestyle magazine publisher and a writer based in New York City with a pulse on China. She hosts TV and video presentations on fashion and style for Phoenix TV, Phoenix Fashion and SINA Fashion, and writes a blog titled CHINESE ELEMENTS for international auction house Sotheby's (http://www.sothebys.com) and a fashion and style column titled NEW YORK IN STYLE for the Financial Times' Chinese edition (http://www.ftchinese.com). Prior to founding CHINA HAPPENINGS, Ms. Jansen was a New York-based corporate partner of an international law firm. A native speaker and write of Mandarin Chinese, Ms. Jansen holds advanced degrees from Yale University and Columbia Law School and serves as an Honorary Ambassador of the Lang Lang International Music Foundation and a director of the Board of the Couture Council of Museum at the Fashion Institute of Technology (FIT).
Observer Media is a collection of premium lifestyle and business titles reaching audiences in the areas of innovation, commerce and luxury. Recognized for original content and premier experiences, Observer Media's digital, print, social media and event platforms reach 5 million of the nation's most affluent and educated individuals. Notable properties include, the New York Observer, Betabeat, Gallerist, Commercial Observer and SCENE.
Baccarat Hotel & Residences New York, a joint venture between Starwood Capital Group and Tribeca Associates, will redefine the heart of Manhattan, coinciding with the legendary French crystal-maker's 250th anniversary. Closings for the residences will begin over the summer, while the hotel will open in late 2014. Located just off Fifth Avenue on 53rd Street and across from the Museum of Modern Art, the striking 50-story glass tower, created by Skidmore Owings & Merrill, encompasses 60 private residences conceptualized by Tony Ingrao, above 114 guest rooms designed by Gilles et Boissier. Prices range from $3.95 million to $60 million; layouts from approximately 1,200 to 7,400 square feet are offered.
CONTACT:
Observer Media / YUE Magazine
Zarah Burstein, zburstein(at)observer(dot)com
Susan Magrino Agency / Baccarat Hotel & Residences New York
Vanessa Morin, vanessa.morin(at)smapr(dot)com