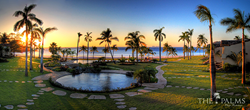 Playa Flamingo, Costa Rica (PRWEB) May 01, 2014
For a limited time, when vacation villa renter book an exclusive "Preview Stay" at The Palms Private Residences, they will receive a brand new Amazon Kindle Paperwhite. This promotion is in conjunction with the Palms having been chosen as the location for Amazon's most recent Kindle Paperwhite commercial, which can be seen nationwide in the U.S.
To schedule a Preview Stay at The Palms Luxury Villas, contact Mark Randall at mark(at)palmscostarica(dot)com or call directly at 800.867.5762. To learn more about our multiple levels of investment and rental options that fit nearly any portfolio visit The Palms website http://www.palmscostarica.com
About The Palms Private Residence Club:
The Palms Private Residence Club is the only luxury residence club in Guanacaste, Costa Rica.
Nestled on the Pacific Coast's pristine Playa Flamingo, each of the 32 Villas at The Palms offers stunning views of the Pacific Ocean. With all the advantages of vacation home ownership and the services and amenities of a first-class resort, The Palms offers its owners a sanctuary and a more authentic luxury experience.
Potential owners can purchase 1/8th ownership at $149,000 or 1/10th starting at $129,000. Ownership provides unlimited, flexible access to all of the Club Villas. Also, vacation at hundreds of other private home and resorts worldwide through The Palms' reciprocal use program.
For more information, please call 800-867-5762 or visit The Palms' website http://www.palmscostarica.com.
Stay socially connected
Facebook https://www.facebook.com/palmscostarica
Twitter: http://www.twitter.com/palmscostarica