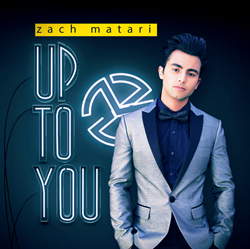 "Don't let anyone force you to do something you're not ready to do. That's the message I want to send with my new single "Up To You!"
New York, NY (PRWEB) April 30, 2014
Once again, Zach Matari captured the hearts of his fans during an incredible performance at The Wells Fargo Center in Philadelphia, PA. Garnering more and more recognition, his nostalgic style of music and dance has earned him the spotlight at his recent shows. While touring the country, Zach continues to spread his anti-bullying message to young teens through his music. His soon to be released original single "Up To You" carries a 70's and 80's throw back feel, while delivering his message to his growing fan base. "Up To You" was written by Zach and produced by Gi Joe and sends a clear message to his listeners: Don't rush into anything you don't want to do, take you're time it's "Up To You!"
Zach was recently featured on Channel 12 News and interviewed by Della Crews for Spotlight NJ. The interview discussed Zach's upcoming shows with a sneak peak to his newest single "Up To You!"
Zach will be performing at the 20th Annual Hoboken Arts and Music Festival on Sunday May 4 at 12:45 pm. He is expected to perform along side his dancers from Beat Club Crew who were recently in an episode of GLEE on channel FOX.
Zach will continue his anti-bullying tour, sponsored by Pop Star Magazine, on May 12 with Teen Nation and will be delivering his anti-bullying message to thousands of students throughout the Pittsburgh, Philadelphia and Atlantic City area.
In between his Teen Nation tour, he will make a stop at Trump Plaza in Atlantic City on May 16 for a huge anti-bullying event hosted by Reality Dance.