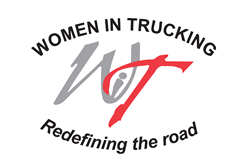 'This is the second time we have been able to help our members gain training in the trucking industry,' said Jan Hamblin, Women In Trucking Foundation Chairwoman.
(PRWEB) April 30, 2014
Ashley Harris and her sister, Jessica, spent their childhood years around trucks because their father and grandfather were in the trucking business. Jessica decided to become a mechanic, but Ashley enjoyed customer service more and chose a career in the parts department. She is currently working on her apprenticeship at Centennial College in Toronto, Ontario and is looking forward to the day she earns her certificate as a Parts Technician. One day, Ashley and Jessica hope to take over their father's truck and trailer repair garage themselves.
Ashley was one of four recipients of the 2014 Women In Trucking Scholarship program. She received $500 toward her tuition, along with three other finalists who are pursing careers as professional drivers.
"This is the second time we have been able to help our members gain training in the trucking industry," said Jan Hamblin, Women In Trucking Foundation Chairwoman. "We are especially pleased to provide funds to a woman earning a certificate as a technician as well," Hamblin added.
Melissa Scelzi is a student at Iowa Central Community College in Fort Dodge, Iowa. Melissa is looking forward to working alongside her husband, an owner-operator leased to Combined Transport. In February of this year, they lost their truck due to a fire and are waiting for the insurance to replace it. She was also introduced to a career in the trucking industry as a young girl, as her stepfather and grandfather owned a logging business in the Pacific Northwest. Melissa is looking forward to becoming a team driver upon completion of the course.
Sepha Nisbet has been driving a school bus in Oregon for over fifteen years, but wanted a higher income than the job would provide. She enrolled in the IITR Truck School in Albany, Oregon with the goal to earn her Class A CDL and begin driving over the road.
Margarita Santiago has enjoyed accompanying her husband in the truck, but decided to join him as a full-fledged team member. Her background in the trucking industry began at an early age as well, with a father, brother-in-law, and cousins showing her the way. She worked as a dispatcher inside the terminal, but is looking forward to starting her career inside the truck and over the road. Margarita attended Spirit CDL Training in Belvidere, Illinois.
Each of these students submitted an application for scholarship funds this year, and was chosen to receive $500 each toward their tuition costs. For more information about the Women In Trucking Scholarship Foundation, visit http://www.womenintruckingfoundation.org.
The Foundation is affiliated with Women In Trucking Association, Inc., a nonprofit association established to encourage the employment of women in the trucking industry, promote their accomplishments and minimize obstacles faced by women working in the trucking industry. Membership is not limited to women, as sixteen percent of its members are men who support the mission. Women In Trucking is supported by its members and the generosity of Gold Level Partners: Bendix Commercial Vehicle Systems, Daimler Truck NA, Frito-Lay North America, Great Dane Trailers, Hyundai Translead and Walmart. Follow WIT on Twitter, Facebook or LinkedIn. For more information, visit http://www.WomenInTrucking.org or call 888-464-9482.