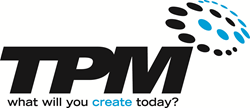 Charleston, SC (PRWEB) May 02, 2014
TPM, Inc., the Carolina's largest 3D CAD provider and a leading technology company that has provided solutions to the Engineering and Design community for the past 40 years, is pleased to announce their new local office and training facility in Charleston, SC. By adding a Charleston office to its existing four offices in North and South Carolina, TPM expands its abilities to support manufacturers, engineers, and architects across the Southeast.
Founded in 1973, TPM, Inc. serves over 3,000 customers across the Southeast each year by bringing the latest in 3D Design Software, 3D Printing and Scanning, Data and Document Management Solutions, Reprographics and Large Format Graphics. TPM serves a variety of industries including Manufacturing, Architecture, Engineering, Construction, and Design.
"Having served the Lowcountry and surrounding communities for over two decades, this local office and training facility will enable TPM to continue providing the highest level of support and service to our existing and prospective Customers," said Chris Fay, Vice President of TPM, Inc. "Our Focus = Service and we look forward to continuing our growth in this market."
"Congratulations to TPM on the opening of its new office in Charleston. TPM has a 14-year history providing world class support to its SolidWorks customers. This is very good news for SolidWorks and TPM but even better news for our customers throughout the Charleston area,"-Ken Clayton, Vice President of Worldwide Sales, Dassault Systemes SolidWorks.
TPM's new office is located at:
4000 Faber Place Drive, Suite 300
Charleston, SC 29405
Phone: 843-266-0004
About TPM, Inc.
TPM is headquartered in Greenville, SC with other offices in Columbia, SC, Charlotte, NC, and Raleigh-Durham, NC. TPM strives to satisfy the needs of architects, engineers, manufactures, design professionals, and graphic artists in a manner that exceeds their expectations for product value, service, support and training. Customers are not loyal to companies; customers are loyal to persons who are friendly, fair, honest professionals, and who "go the extra mile." TPM supports the entire design process, from conception and collaboration to management and support. More information on the company is available at http://www.tpm.com.