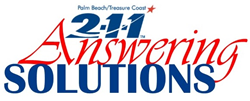 The staff at 211 Answering Solutions are fantastic and easy to work with. Partnering with 211 is a huge relief for us and is well worth the money.
Lantana, Florida (PRWEB) May 08, 2014
211 Answering Solutions, a unique offering from the nonprofit organization 211 Palm Beach/Treasure Coast (also known as 211 HelpLine), has introduced a wide array of telephone-based communication services to organizations and their clients who may be looking for call answering or phone support assistance during regular or non-traditional business hours. Depending on an organization's needs and wishes, 211 can act as a simple call answering service or provide phone support for more complex needs.
211 Answering Solutions offers significant value to organizations, especially nonprofits, by opening new doors at a low cost without the high price tag of hiring call answering and phone support staff to accommodate those in need. It also results in fewer missed crucial calls and less frustrated clientele—because their calls will be met by a friendly, sympathetic voice.
211 Answering Solutions is the HelpLine's social enterprise, created to help 211 Palm Beach/Treasure Coast increase its margin so it's better able to expand its mission of supporting the health & human service system as a whole. With a history of relying heavily on grants and donations to fund its work, 211 HelpLine realized the importance of diversifying its revenue to help build the organization's financial sustainability. As a result, 211 HelpLine determined it could leverage its 24/7 crisis hotline and community HelpLine infrastructure that was already in place to pursue this new venture, resulting in the creation of 211 Answering Solutions.
As a nonprofit organization, 211 HelpLine understands the environment organizations are being forced to work in – including budget cuts, forced collaboration, and having to do more with less resources – and 211 believes they have the answer to solve these issues. Some of the types of services being offered by 211 Answering Solutions include, but are not limited to, the following:

24/7 Answering Services
Information, Assessment & Referral Services
Appointment Setting & Confirmation
Follow-up Communications
Crisis Intervention, De-escalation & Active Listening
211 Answering Solutions has bilingual capabilities and technology that can provide warm transfers of calls, along with reports that address call types, problems, needs, and more, depending on the agency's specific needs. The organization sets the parameters, 211 Answering Solutions does the work, ensuring caring and compassionate responses to callers who might be confused, overwhelmed or in distress. Staff is highly trained and able to handle calls in a concerned and empathetic manner.
According to Susan Buza, Executive Director of 211 Palm Beach/Treasure Coast, "Access to services and supportive assistance 24 hours a day becomes all the more essential for residents in this day of growing needs." Ms. Buza continued, "With decreasing funding, nonprofit and governmental agencies must collaborate and build on other organization's assets and resources in order to be responsive."
Currently, 211 is taking after hours crisis calls for Alzheimer's Community Care and providing Food Stamp appointment-setting services for C.R.O.S Ministries all day, every day. "The staff at 211 Answering Solutions are fantastic and easy to work with," said Reverend Pam Cahoon, Executive Director of C.R.O.S Ministries. Reverend Cahoon continued, "Partnering with 211 is a huge relief for us and is well worth the money."
For anyone interested in learning more about how their nonprofit can work with 211 Answering Solutions, please contact Susan Buza, 211 HelpLine's Executive Director, at 561-533-1099.
About 211 Palm Beach/treasure Coast
211 Palm Beach/Treasure Coast, also known as 211 HelpLine, is a nonprofit organization, servicing all of the Treasure Coast & Palm Beach County. 211 is a confidential, non-judgmental HelpLine available 24/7 to individuals who find themselves in a situation without knowing whom to contact in order to obtain the information, referrals or answers to the problems they are facing. 211 is essentially the "gateway" to all other health, human service, and governmental organizations in the community. To learn more about 211 Palm Beach/Treasure Coast, visit their website at http://www.211palmbeach.org.