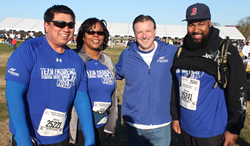 Suitland, Maryland (PRWEB) April 30, 2014
Andrews Federal Credit Union served as a sponsor for the 2014 Credit Union Cherry Blossom 10-Mile Run and 5K Run/Walk. The race took place on the National Monument grounds in Washington, DC. Andrews Federal employees, including President & CEO Jim Hayes, were on hand to volunteer. Additionally, the Credit Union sponsored 55 runners between the 10-Mile Run and the 5K Run/Walk.
"Andrews Federal is proud to serve as a sponsor of the Credit Union Cherry Blossom Run," says Jim Hayes, Andrews Federal President & CEO. "I am also proud of our staff participating as both runners and volunteers. Everyone did a great job."
The annual Cherry Blossom Run is sponsored by the Credit Union Miracle Day, Inc., a partnership of national credit unions and affiliate organizations. Proceeds from the run benefit the Children's Miracle Network, which helps raise funds for over 170 children's hospitals throughout North America.
About Andrews Federal Credit Union
Andrews Federal Credit Union was founded in 1948 to serve the needs of military and civilian personnel by providing a vast array of financial products and services. With over $1 billion in assets, Andrews Federal has grown to serve more than 100,000 members in the District of Columbia, Joint Base Andrews (MD), Joint Base McGuire-Dix-Lakehurst (NJ), and military installations in central Germany, Belgium, and the Netherlands. In addition, the Credit Union serves as a financial partner with many select employee groups in Maryland, the District of Columbia, and New Jersey.
To learn more about Andrews Federal Credit Union and its community involvement, or to become a member, call 800.487.5500 or visit http://www.andrewsfcu.org.