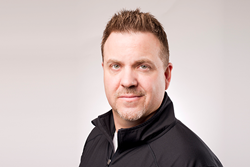 ...a high-energy adventure/fantasy novel...
Los Angeles, California (PRWEB) April 30, 2014
The Osmond family's California-based publishing company, Sourced Media Books, announces the addition of author Grant Kauffman, former Lincoln native, Lincoln Southeast and UNL graduate, to its growing lineup of authors. Kauffman signed a three-book deal for a young adult adventure series called Project 14, the first of which will be released in May. Amy Osmond Cook, who is heading the multi-book project, says she is excited for the new series, one she wholeheartedly believes will be successful.
"We are very excited to welcome Grant Kauffman to the Sourced Media Books family. We feel the Project 14 series will be a great success with not only our young adult audience, but with fans of all ages of adventure and fantasy," Osmond Cook said. "Grant Kauffman is a creative storyteller who has come up with a very marketable series, one that could easily become the next popular franchise book series."
The first book of the series, Project 14: The Legend of Beelzebub's Bluff, is a high-energy adventure/fantasy novel that takes place in (and under) Texas. It is the story of five young people who, while on a family camping trip in the heart of the Texas River Country, get trapped in a cave system deep below the earth's surface where they discover an extraordinary secret. Kauffman, born and raised in Lincoln but currently living in McKinney, Texas, says Sourced Media Books was a perfect fit for him on several levels.
"Amy Osmond Cook and I share a similar passion for great stories that are not only entertaining to read, but adaptable to other mediums. It was important to me to sign with a publisher that understands more than just books, which the Osmond family obviously does. That type of synergy is one of the reasons I chose to sign with Sourced Media Books. I'm very excited to be a part of the SMB team and look forward to producing entertaining stories for years to come."
Project 14: The Legend of Beelzebub's Bluff will be available in May.
Sourced Media Books is a California publisher specializing in books and ancillary services for authors and business owners. With a higher royalty rate for traditionally published titles, integrated print and digital publishing strategies and fully customizable services for authors and small businesses, Sourced Media Books is redefining publishing in the digital age.