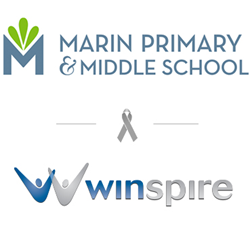 Winspire has allowed us to grow our raffle exponentially the past few years. It's been a really good formula for us as word has spread in the community.
Larkspur, CA (PRWEB) April 30, 2014
For the fourth year in a row, the Marin Primary & Middle School (MPMS) Parents Association held a "winner's choice" raffle to raise money for their small private school which serves K-8 and consists of only one class of students per grade. The grand prize was a choice of one of four once-in-a-lifetime trips provided by Winspire. Ticket sales shattered records from previous years, beating the $16K and $14K in revenue earned last year and the year before. This was attributed to community awareness of the annual raffle, which has been expanding since they started it in 2010.
"Winspire has allowed us to grow our raffle exponentially the past few years," explains Parents Association President Samantha Cross, "It's been a really good formula for us as word has spread in the community. Our expectations were that we wouldn't beat the numbers from previous years, but we just keep exceeding them."
Experiences offered in the raffle included trips to Mexico, San Diego, New York and Whistler, with the winner choosing a Four Seasons Resort 5-Night Stay in Punta Mita, Mexico. Raffle tickets were sold by students and their families for two weeks leading up to the event for $25 a piece or $100 for five tickets. The Association challenged students with a contest, enticing them with a big party or field trip going to the class who sold the most tickets. They held parking lot rallies, selling both event and raffle tickets in the mornings as parents dropped off their kids.
"A big thing with Winspire - which is great - is their vast assortment of experiences," Samantha continues, "We always try to have a good mix of trips because we have both young families and those with middle school kids. Every year people really appreciate the variety."
For the second year in a row the winner was a student's grandmother, whose name was drawn at the MPMS Marti Gras Auction Gala held on the evening of March 29th. The event drew upwards of 280 guests, who spent the evening socializing and browsing more than 180 silent and 11 live auction items. A New Orleans Jazz Winspire Experience was offered in the live auction and sold a total of 9 times, raising another $7,000 for the school. All told the event raised $450,000 with all funds going directly to the school's operating budget.
ABOUT MARIN PRIMARY & MIDDLE SCHOOL
Marin Primary & Middle School was founded in 1975 as Marin Primary, a cooperative preschool in a Corte Madera church basement. In the years that followed, classes were added until the program encompassed preschool through middle school. At the heart of our mission lies a deep respect for childhood. The founders envisioned a school where childhood is treasured, and where teachers respect the pace of each child's journey from childhood to adolescence, recognizing the many ways in which children learn, and striving to educate the whole child. Our integrated curriculum provides ample opportunities for children to explore their passions in many different areas and attracts dedicated teachers with a deep understanding of children and learning. For more information, visit: http://www.mpms.org
ABOUT WINSPIRE
Winspire provides unique once-in-a-lifetime travel Experiences for nonprofits to use in benefit auctions and other charity fundraising events. This increasingly popular fundraising tool allows organizations to place exclusive travel packages in their fundraisers without any upfront cost. Since organizations purchase only those packages they sell, Winspire Experiences can be used with no risk at live auctions, silent auctions, raffles and any number of fundraising events.
Since 2008, Winspire has been involved in more that 25,000 events and has helped raise over $30 million for charity with these experiences. More that 55,000 satisfied winning bidders have purchased and enjoyed Winspire packages, which include such Experiences as award shows, major sporting events, VIP access, family vacations, international trips, cruises and hundreds more. The Winspire Booking & Concierge Service provides winning bidders with a team of seasoned travel professionals to handle all travel related details and reservations for every Experience. For more information, please visit http://www.winspireme.com.