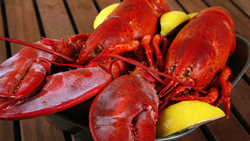 (PRWEB) April 30, 2014
This year, give Mom the best Mother's Day ever with a magnificent, jaw-dropping meal that will take less than 5 minutes to prepare…exactly the way her favorite restaurant prepares it. GetMaineLobster.com presents its 6 Easy Maine Lobsters, a perfect way to treat Mom to an iconic seafood delicacy – at the equally easy price of $119, including no-cost shipping.
This special includes pre-cooked lobsters that are flash frozen to be ready in minutes. Preparation is simple—just thaw them 36 hours before serving, drop in boiling water for 2 to 3 minutes, and voila: an elegant yet effortless entrée ready for the table.
The Easy Maine Lobster dinner includes six 1¼-pound, 100 percent Maine Lobsters, shipped to arrive Tuesday through Saturday.
GetMaineLobster.com is offering other Mother's Day Specials, including Buy 6 Lobster Tails, Get 6 Free; Stuffed Maine Lobster Tail Dinner for 4; Lobster Tail and Chowder Feast for 4; 6 Live Maine Lobsters; and more.
An additional offer that goes so well with lobster: the 36 Mini Crab Cakes special – featuring 36 one-ounce Mini Crab Cakes and 8 ounces of Sweet Heat Sauce, plus cooking instructions. This special is made with 100 percent Maine crab meat, pure Rayes Maine Made Mustard, Old Bay seasonings, butter, mayonnaise, butter, panko bread crumbs, and green and sweet onions. The Mini Crab Cakes are frozen fresh and shipped directly via 2-day air, arriving only on Wednesdays, Thursdays, Fridays, and Saturdays.
GetMaineLobster.com Standards:
Our live Maine lobsters are caught by Maine lobstermen and women dedicated to preserving the sustainability of the Maine lobster industry and engaging in practices that ensure its health. They are hand-selected with care and humanely by experienced lobster-handling experts and packaged with sustainable, environmentally friendly materials.
About GetMaineLobster.com
GetMaineLobster.com, a division of Black Point Seafood and Black Point Gourmet, hand-selects the finest Maine lobster, seafood and beef products for convenient distribution throughout the United States. Their passion is to make fresh, quality seafood readily available to customers across the country, which is why they buy from only the most trusted, well-established suppliers to ensure that they receive the finest products available.
GetMaineLobster.com was selected out of the more than four million small American businesses served by Chase bank to represent its new Platinum Business Checking product for its 2013 national advertising campaign.