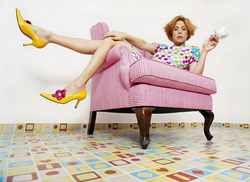 With these runway shows and amazing line-up of designers, Miami Fashion Week promises to be the best and most coveted fashion week of the year
Miami, Florida (PRWEB) April 30, 2014
Miami Fashion Week, taking place from May 15th to May 18th, is excited to announce its one-of-a-kind designers line-up. The first-ever resort wear and pre-spring collections fashion week will showcase a unique mix of internationally renowned and well-established local fashion designers.
As the event rebrands and transforms for it's 16th year, internationally recognized Spanish designers such as Custo Barcelona, Agatha Ruiz de la Prada and Andres Sarda will lead the interactive shows with their European take on luxury cruise and resort fashion. Also in the catwalk, Malaparmi and Stella Jean, as well as Yamamay for Miss Universe Collection, alongside the Eastern Air Lines flight attendant runway show.
"We are extremely proud of the unique mix of designers who will present at the biggest resort-wear only fashion event," said Beth Sobol, President of Miami Fashion Week." With these runway shows and amazing line-up of designers, Miami Fashion Week promises to be the best and most coveted fashion week of the year."
Miami Fashion Week Resort 2014 Collections celebrity guests and attendees will experience the excitement and joy of a parallel universe through amazing international runway shows full of fabrics, embroideries, precious materials and elegance.
Miami Fashion Week 2014 Resort Collections Designer Line-up:

Kayce Armstrong
Prajje Jn. Baptisted
Agostina Bianchi
Bogosse
Claudia Bertolero
Olga Bolanos
Elfer Castro
Fabrizio de Castro
Julian Chang
Mariana Castro
Cuarto Colorado
Escudo
Emprendedores de Nuestra Tierra
Nicolas Felizola
Vika Frolova
Viviana Gabeiras
Samy Gicherman
Erin Healy
Matias Hernan
Sherri Hill
Fadila Kihel
Indie Soul
Lisu Vega
Lola Kids
Victoria Lopez Castro
Magnolia
Anna Mora
Narciso
Teresa Rosati
Tracey Saintil
Sambarela Swimwear
Paulo Silva
D'andra Williams
The Willbourne Sisters
For more information please visit: http://www.miamifashionweek.com
Join the conversation @MiamiFashionWk, use the hashtag: #MIAFW