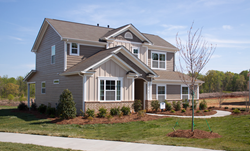 We are very proud of what we have accomplished at Miller's Grove. The difference is night and day.
Charlotte, NC (PRWEB) May 01, 2014
Shea Homes of Charlotte begins sales in their second China Grove, NC neighborhood, called Miller's Grove. This formerly distressed neighborhood received a major face-lift and now offers new homes from the $170's to $200's.
Miller's Grove was a former eye-sore, previously chained shut and home only to weeds and broken street lamps. When Shea Homes acquired it, they partnered with Opportunity House of Kannapolis to put local poverty-stricken residents back to work as landscapers; the workers revitalized the existing playground, removed weeds throughout the neighborhood, and planted new flowers, shrubs and trees at the two entrances.
On April 19, 2014 Shea Homes opened the doors to their new model home and sales center. Miller's Grove offers 1 and 2-story homes with two car garages and painted siding exteriors. Homes range from 1,900 to over 2,700 square feet. All homes offer spacious open plans and include a rear covered porch. All customers who build have the opportunity to personalize their home in Shea Homes' 3,100 square foot design studio, selecting everything from exterior colors to flooring and cabinets.
"I am very proud of what we have accomplished at Miller's Grove," commented Shea Homes' VP of Sales and Marketing Michele Scott. "The difference is night and day. We are very excited about the preliminary interest in Miller's Grove, especially in our new 1-story home. We look forward to a successful future in China Grove."
For more information on Miller's Grove, please visit http://www.sheahomes.com/chinagrove.
ABOUT SHEA HOMES
Shea Homes Charlotte is a division of Shea Homes Limited Partnership, an independent member of the Shea family of companies; Shea Homes is the oldest family‐owned homebuilder in the United States. Shea Homes builds new homes in California, Arizona, Nevada, Colorado, Washington, North Carolina, Texas, Virginia and Florida. With choices to suit homeowners in every stage of life, Shea Homes offers new homes ranging from affordably priced condominiums to traditional single-family detached homes and magnificent luxury residences. Shea Homes has been recognized as a leader in customer satisfaction with a reputation for design, quality and service. For more information about Shea Homes and its communities, visit SheaHomes.com.