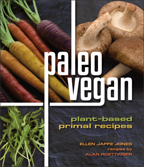 For a real treat, QR codes on the recipe pages link to online cooking demonstrations.
Summertown, TN (PRWEB) May 01, 2014
How does a bean-eating, plant-loving vegan embrace a normally meat-filled, carb-avoiding paleo diet? By turning to the wit and culinary genius of two cookbook authors—Ellen Jaffe Jones and Alan Roettinger—whose HOT OFF THE PRESS cookbook Paleo Vegan combines two dietary approaches that at first appear completely incompatible.
Athlete, coach, and vegan advocate Ellen Jaffe Jones was inspired to fuse the two diets when vegan friends abandoned their plant-based meals in order lose weight using paleo recommendations. She approached her publishers, Book Publishing Company, who loved the idea and teamed her with chef extraordinaire Alan Roettinger—an expert at adding gourmet flair to everything he creates. BPC moved this book to the forefront due to increased interest from distributors and Voila!—a surprising yet delectable blend of plant-based vegan cuisine and the popular paleo diets.
While paleo diets embrace high protein, minimal carbs, and healthy fats which can easily be followed on a vegan diet, the avoidance of grains and legumes—often a vegan's mainstay—can prove to be challenging. Ellen examines each facet of paleo diets and proposes a simple, more straightforward way of eating based on whole, unprocessed foods that both diets endorse. Ellen's suggestions help ensure that vital macro-nutrients such as protein and calcium are met, and allow for a certain amount of flexibility in food choices while still keeping to paleo's parameters.
Alan Roettinger—a writer, food designer, blogger, and public speaker—is passionate about creating food that is not only healthy but appeals to all of the senses. In Paleo Vegan, Alan sets primeval taste buds ablaze. Using foods such as nuts and seeds, fruits, vegetables, wild-crafted greens and mushrooms, and healthy fats, he dishes up wild creations and exotic flavor combinations such as Oyster Mushroom and Baby Bok Choy Curry, Roasted Pumpkin Dip, and Tuscan Kale with Chili, Garlic, and Black Olives. The occasional optional "cheat" in the form of beans or grain-like seeds adds enticing flavor along with nutritional balance, diversity, and satiety. And for a real treat, QR codes on recipe pages link to online cooking demonstrations.
Both Ellen and Alan are popular speakers at VegFests throughout North America. Their other published cookbooks include Eat Vegan on $4 A Day and Kitchen Divided by Ellen Jaffe Jones and Extraordinary Vegan, Speed Vegan, and Omega-3 Cuisine by Alan Roettinger.