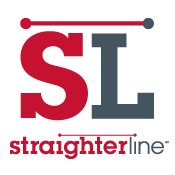 BALTIMORE, MD (PRWEB) May 06, 2014
StraighterLine, a leading provider of affordable, flexible and transferable online college courses for adult learners, has partnered with Regis University's College for Professional Studies (CPS), a leading provider of flexible college degree programs. Regis and StraighterLine together are committed to making it easy for adult learners to go back to college – and earn the academic credentials they need.
Flexible Degree Programs Help Adults Achieve Professional Goals
Regis University makes it easy for adult students to find a balance between educational, professional and personal responsibilities. StraighterLine's online college courses are self-paced and 100% online – allowing students to take control of their education anywhere, anytime. All approved StraighterLine courses can be used as prerequisites for Regis's CPS programs, including those in computer and informational sciences, education, humanities, social sciences and management.
Regis offers those that are working full time scheduling options and their unique learning formats include:

Campus-based – Students can meet one evening per week from 6-10pm
Online Learning – Online learning programs offering flexibility so students study when and where they want, as they do with StraighterLine
Directed Study – Students can design their own eight week courses with the aid of an advisor
Transfer-Friendly Programs Allow Adults to Get Credit for Prior Learning
Regis University awards adult students college credit for prior learning – and values the learning that takes place outside the classroom. Thanks to a guaranteed transfer of approved courses, the partnership between StraighterLine and Regis University offers adult learners easy access to an affordable and flexible degree pathway. With StraighterLine, students can accelerate their path to Regis University.
More information on the partnership – http://www.straighterline.com/partner-colleges/regis-university/?utm_source=PRWeb&utm_medium=PR&utm_campaign=PR_regis_university&utm_content=ACARUU3201 &SubID=ACARUU3201 http://www.straighterline.com/colleges/partner-colleges/regis-university __title__ http://www.straighterline.com/regis-university
About Regis University
Regis University, inspired by its Jesuit Catholic heritage, has been committed to academic excellence, personal development and community engagement since its founding in 1877. Based in Denver, Colo., Regis provides a values-based liberal arts education offering professional certifications and degree programs at the undergraduate, graduate and doctoral levels.
About StraighterLine
StraighterLine helps students reach their full potential by putting them on a straighter line towards the degree of their choice, the career of their dreams, and the life they've always wanted – on their budget and on their schedule.
StraighterLine was founded in 2009, by Burck Smith as a solution to the rising costs of college education. Burck set out to discover why prices for online courses were the same or higher than those of face to face courses. Using relationships with colleges, publishers and policymakers that were forged in his 15 years of online higher education experience, Burck created StraighterLine, a way for students to get low-priced – but equal quality – college credit.
StraighterLine students have transferred over 26,000 StraighterLine credits to America's colleges. In addition to our over 60+ Partner Colleges, over 400 colleges have accepted credit for StraighterLine courses. StraighterLine's courses are evaluated and recommended by the American Council on Education's College Credit Recommendation Service (ACE CREDIT). More than 2,000 colleges and universities consider ACE CREDIT recommendations in determining the applicability of coursework and examination results to their courses and degree programs.
Media Contact
Christine Saba
Partner Marketing Manager
csaba(at)straighterline(dot)com
443.842.5824