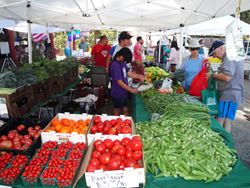 "This is one of our most popular event's in the mountain area. The vendors are great, the products are fantastic. Looking forward to May 14th!" exclaimed Christi Long, a farmer's market foodie.
Bass Lake, CA (PRWEB) May 06, 2014
On April 28th, the Bass Lake Chamber of Commerce officially announced the opening of the 2014 Certified Farmer's Market at the Pines Village in Bass Lake. The event has proven to be one of the most popular in the mountain area and has been eagerly awaited by many.
Returning Vendors
Anchors for the event are returning for the fourth consecutive year. Included are Shasky Farms of LeGrand, Sunny Farms of Clovis and Rosendahl Farms of Tollhouse. These are three of the most coveted Farmer's market vendors in the state and promise to deliver wonderful quality produce as they have in the past. Bass Lake is one of their favorite markets and they feel welcomed as a part of the community.
Other Returnees
Also returning are Blossom Trail Honey, Jammin Jams , Bluebird Trail Farm , and The Happy Baguette All are local vendors and great assets to the market and community. Wonderful music will again be provided by Marcia.
New Additions
New addition for 2014 Farm Girl's Natural Homemade Products. We are very glad to have
this new hometown business represented at our market.
Event times and Location
The event will be held in the Pines Village each Wednesday from 4 til 7PM beginning May
14th and continuing through September as weather, attendance and product permit.
For more information, press only:
Chuck Nugent (559) 642-8163 goodolchuck43(at)gmail(dot)com
For more information on Bass Lake Farmer's Market: http://www.goodoldaze.com.