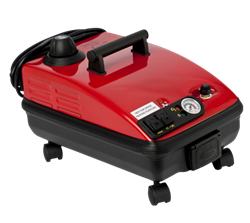 Pompano Beach, FL (PRWEB) April 30, 2014
Tom Wheelan of Pompano Beach, FL, has announced the formation of a new enterprise dedicated to offering consumers a way to reconcile cleanliness with environmental friendliness. His organization, BCT Steam Cleaners, was founded in March 2014 and offers a full line of vapor cleaning machines for all applications, from light residential to heavy industrial use.
BCT's philosophy is that everyday cleaning should be beneficial to one's immediate and long-term health, which means exploring alternatives to harsh cleaning chemicals. Instead, according to Wheelan, steam of a temperature sufficient to kill microbes upon contact should be used whenever and wherever possible. Although most commonly used to clean kitchens and bathrooms, the company's steam cleaners offer users a way to clean most common surfaces through a large assortment of cleaning heads suitable for tile, grout, porcelain, plastic, chrome, glass, fiberglass, fabric, carpet, upholstery, stainless steel, and painted surfaces.
Seven cleaners are currently for sale through BCT, all of which stem from the first and one of the most highly-respected lines of machines to be sold in the United States. All of the cleaners are constructed of stainless steel bodies with lifetime-guaranteed stainless steel boilers and range in price from $695 to $2,195.
As part of BCT's inaugural celebration, it is offering limited-time free upgrades to its VS4000S, VS4000C, and VS5000CI models, the company's most popular commercial cleaners.