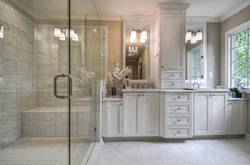 The project gave us a few challenges, but we were able to take the customer's dream and achieve it within budget.
Charlotte, NC (PRWEB) May 01, 2014
Shea Custom (http://www.sheacustom.com), a custom home builder in Charlotte, NC, is proud to be the recipient of the Gold Excellence in Remodeling award for a Bathroom Renovation, $25K - $40K. This award was given by the Home Builders Association of Charlotte during their Awards Dinner held in April.
The winning renovation took place in an older home in Charlotte; it had a very dated bathroom, with white and gold fixtures, peeling wallpaper, and a small shower. The homeowners dreamt of a Carrera-marble bathroom with large walk-in shower, updated vanity and linen storage, all without changing the basic footprint of the room. When they brought their dream and budget to Shea Custom, they were very happy with the outcome.
Charlie O'Melveny, Director of Operations at Shea Custom, commented, "The project gave us a few challenges, such as staying within budget while achieving the Carrera-marble-look the homeowners wanted. And the new layout we presented showed the vanity moving next to the existing window, which meant the countertop could not be the normal height homeowners are looking for today. So we designed a tiered vanity that adds visual interest and is practical for the space, and it looks great. We are very proud of the work we did. We were able to take the dream of what our customer wanted and fit it into their budget."
By the time this home renovation was complete, Shea Custom completely tore out the existing bathroom, added a huge walk-in shower, created a unique double vanity with linen storage, and aided the customer in selecting tile that achieved the look they wanted while maintaining their budget. To view before and after photos of this home, please visit Shea Custom's website: http://www.sheacustom.com/projects/project-84.asp.
ABOUT SHEA CUSTOM
Shea Custom is owned and operated by Shea Homes of the Carolinas, an independent member of the Shea family of companies. Shea Custom offers large scale home renovations in the greater Charlotte area, in addition to building custom homes on customers' homesites. All Shea Custom estimates are free and require no obligation from the customer. To find out more and to see Before and After photos of recent projects, visit http://www.sheacustom.com. Shea Custom offers affordable custom homes and renovations from a name people know and can trust.