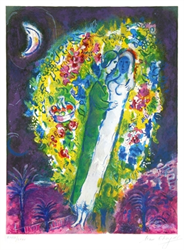 Spring Modern Masters features over 40 prints, drawings, sculptures, and ceramics by some of the most important artists of the early to mid-20th century.
New York, Berlin (PRWEB) April 30, 2014
artnet Auctions is pleased to announce Spring Modern Masters, a sale featuring over 40 prints, drawings, sculptures, and ceramics by some of the most important artists of the early to mid-20th century, including Pablo Picasso (Spanish, 1881–1973), Marc Chagall (French/Russian, 1887–1987), Joan Miró (Spanish, 1893–1983), Marcel Duchamp (French, 1887–1968), Fernand Léger (French, 1881–1955), and Henri Matisse (French, 1869–1954).
One highlight of the sale is a unique monotype with gouache on paper by Marc Chagall entitled Le Coq Violiniste (1974), estimated at US$35,000 to 45,000. The work features well-known imagery from the artist's childhood in Vitebsk, Russia—a mother and child on horseback riding past a peasant village with a violin-playing red rooster floating above them. Chagall stated that, for him, the rooster symbolized the potency of the artist and the violin signified his enduring love for his Jewish heritage. Two other Chagall prints in the auction notable for their vivid colors and emotive imagery are Couple dans Mimosa (from Nice and the Côte d'Azur) (1967), estimated at US$30,000 to 40,000, and Maternité (1954), estimated at US$10,000 to 15,000. Both were printed by Charles Sorlier, Chagall's famed master printer, who seamlessly translated his original paintings and drawings into spectacular lithographs.
The sale features a number of important Picasso ceramics, including Femme du Barbu (1953), an earthenware turned pitcher of a face with a whimsical expression, estimated at US$40,000 to 60,000, and Visage No. 193 (1963), an earthenware plate with a striking harlequin face, estimated at US$20,000 to 30,000. Also included is an unusual silver pendant entitled Visage (c.1950), estimated at US$8,000 to 12,000. The piece is one of several medallions Picasso created while he was at the Madoura Pottery workshop in the South of France.
This auction features a diverse group of works by European artists who embraced the ideology of Futurism, with a focus on the importance of machines when looking to the future. The Swiss artist Lill Tschudi (1911–2004), who studied under the Italian Futurist painter Gino Severini (1883–1966), created the linocut In the Circus in 1932. A richly inked impression of this dynamic linocut is included in this sale, with an estimate of US$10,000 to 15,000, and is rarely seen at auction. Another Futurist-inspired work featured in the sale is Fernand Léger's exquisite pen-and-ink rendering of machine parts entitled Composition (c.1930), estimated at US$18,000 to 22,000.
Two of Marcel Duchamp's famous Bouche-Eviers (1964) (which translates to "sink-stopper"), one steel (estimated at US$10,000 to 15,000) and the other bronze (estimated at US$8,000 to 10,000), are also on offer in the sale. In 1964, Duchamp gave his prototype to the Society of International Collectors, a New York-based numismatic organization, which published sculpture medallions in various metals. The steel Bouche-Evier also includes the very rare original display stand.
Other important Modern artists whose works are included in the sale are Henri Matisse and Joan Miró. A significant lithograph by Henri Matisse created during his time in Nice from 1917 to 1929, Figure Devant Tapa Africain (1929), estimated at US$20,000 to 30,000, demonstrates the artist's penchant for portraying women in exotic costumes set against ornate wall coverings, fashionable in 1920s France. The sale also features a spectacular large aquatint by Joan Miró, Le Bagnard et sa Compagne (1975), estimated at US$35,000 to 45,000. The translated title means "the convict and his moll," and a hooded bandit is visible in the striking abstract composition.
Spring Modern Masters is live for bidding on artnet Auctions from April 29 through May 8, 2014, and is on view at http://www.artnet.com/auctions/search/?q=keyword-modern_2014-category-all-artworks-active-auctions-only/.
Register to bid on artnet Auctions: https://www.artnet.com/auctions/register-to-bid
View all lots: http://www.artnet.com/auctions/all-artworks/
For more information about this sale, please contact artnet Auctions specialist:
Deborah Ripley
Senior Specialist, Prints
T: +1-212-497-9700 ext. 174
dripley(at)artnet(dot)com
About Us:
artnet is the leading online resource for the international art market. Established in 1989, artnet provides reliable information and market transparency to art collectors. With our comprehensive suite of products, artnet can empower anyone with a passion for art.
With 24/7 worldwide bidding, artnet Auctions & Private Sales is a dynamic marketplace for collecting art. Our online auction platform provides a unique collecting experience with seamless flow between consigners, specialists, and collectors. Our auctions and private sales community influences new collectors and inspires everyone to collect art.